The sport of bike trials treads onto the Canadian public recreation scene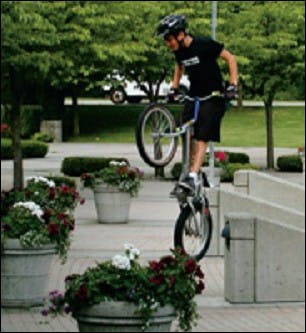 As recently as last summer, Gaëtan Royer would look out the window of his Port Moody (B.C.) City Hall office every day to see bike-riding youths hopping on and off concrete benches and planters. Fearful that the youths were scaring away downtown retail customers, Royer, the city's director of community and leisure services, was at first disturbed by the sight. Before long, though, that irritation turned to curiosity.
"Two things were going through my mind," Royer says. "One, I was thinking about the liability issues. Two, I was in awe." Amazed by the youths' skill at navigating their mountain bikes through the makeshift obstacle course, Royer sought to learn more about "bike trials," and why its participants chose City Hall's courtyard as a practice site.
That search sent Royer to Joan Jones, head instructor and director of the West Coast School of Mountain Biking in nearby Coquitlam. From her, Royer learned that bike trials is quite unlike downhill mountain biking - a popular activity in the suburban Vancouver area. The sport takes place not on long, winding trails but rather on short, staged courses featuring elements such as boulders, logs and concrete road barriers. Successful trials riders aren't exceptionally strong or fast, but are instead scored on their agility and balance through a course's sections. According to Jones, it's these criteria that draw individuals who might not excel at traditional team sports to bike trials. She says the sport is becoming especially popular with B.C. boys ages 12 to 16.
Yet as the sport grows, trials riders are increasingly finding themselves without places to train. Courses are rare and often privately owned (as at resorts in Whistler, B.C., and California's Lake Tahoe region), and mountain biking trails are considered too dangerous and unpredictable for practice. Many riders see public plazas and construction sites as the best and only available option, yet they are frequently shooed away from their "training grounds," recalling the treatment received by skateboarding enthusiasts throughout most of the '90s - before the skate park boom.
That's why Royer proposed to his city council that it turn a potential public relations nightmare into an all-around victory and build a park specifically for bike trials. "We have an energetic staff that can really make things happen," says Royer. "With our city council, sometimes things can take a long time to develop. But in this case, they were sold. They just said 'go.' "
With that, Port Moody's city council handed over to Royer $5,000 (Canadian) and an "unsightly and unused" piece of land beneath an overpass. The project quickly gathered momentum, as Royer enlisted the manual labor of volunteer workers - many of them trials riders and instructors - and secured additional capital resources from local private agencies. In September, only two months after the concept was born, Port Moody opened what is believed to be the first municipal bike trials park in North America. Although it's busiest in the summertime, the park's unique siting allows for year-round use. "On rainy days, it's more popular than the skate park," Royer says.
Several other area municipalities have taken note of Port Moody's recreational breakthrough. In May, a trials park opened less than 10 miles away in Richmond, and at least two other nearby cities are planning to follow in Port Moody's footsteps. Says Jones, "This area is quite a hotbed for trials riding."
It's taken more than two decades for bike trials to break free from its humble beginnings and evoke such acclaim. Originally intended to train young motocross riders, bike trials was first introduced to North America in 1981 by European professional riders. In Spain, the sport is called "trialsin" and in England, "cyclotrials." "Everyone thought it was new, but they'd been doing it in Europe for 40 years," says Jones.
The sport's popularity there didn't immediately elicit a similar buzz on this side of the Atlantic, and it still has yet to draw the coverage given to other extreme sports such as skateboarding and dirt biking. But riders and instructors alike feel that bike trials' turn in the spotlight is just around the corner. By year's end, more than 30 competitive trials events will have been held in the United States and Canada combined, and the sport now counts such Colorado-based organizations as the National Off-Road Bicycle Association (NORBA) and the International Mountain Biking Association (IMBA) among its major sponsors.
Representatives from IMBA were present at the grand opening of the Port Moody Bike Trials Park and later publicized the event on its web site. While Royer says that he certainly appreciates organizations like IMBA spreading the word about his city's new park, he's even more thankful for the generous contributions from several local construction companies. Not only did they donate many of the park's obstacles, the companies also volunteered to transport the materials to the site and place them in their designed layout. "If we'd had to pay for everything, the overall cost would probably have come close to $25,000," says Royer.
The low-cost project found value not only with the Port Moody City Council, but also with Jones, who was happy that it provided opportunities for local youth to be involved in the park's planning and construction processes. "It's hard to build a trials park when you're not a trials rider, as good as your intentions are," she says. "These people should not be neglected. They're the pros and the ones who best understand the sport. Whether you want their input or not, the chances are that they will have some very important things to say."
One recommendation that trials riders are likely to make is to create a park that can be easily modified from time to time. "If you can go into the park a few times a year and change it up, you can give it a fresh look so that people don't ride down the street to the next thing," Jones says.
Which is very possible, considering that most trials riders, as teenagers, are very impressionable and somewhat whimsical in their tastes. The theory among Port Moody officials was that if the kids felt a sense of ownership in the new RECREATION park, they would respect it much more and be less likely to vandalize the facility, or worse yet, abandon it altogether.
Although somewhat risky, city officials consider their progressive approach a success and a direct contributor to the development of a park improvement initiative. This summer, Port Moody began its Volunteers in Parks (V.I.P.) program. The trials park is serving as the testing ground for the program, which has community members volunteering their time to upgrade city parks. At the trials park, volunteers adjust the courses as they like, although liability issues prohibit individuals from bringing homemade obstacles into the park. "They come in and do a lot of the labor, and the city provides the materials," says Corina Lefebvre, Port Moody's youth services programmer. "There are a lot of people who want to get involved. Many of them come in from surrounding areas, as far as an hour or two away."
Instructional riding clinics offered at the bike trials park have also proven popular. In June and July, Port Moody offered two four-week clinics, with instruction provided by Jones' mountain biking school. One clinic was designed for riders ages 8 to 14 (although, according to Lefebvre, there were numerous requests from parents to admit six- and seven-year-olds) and another was aimed at adults. The classes were priced at $60 and $80, respectively, but both had a 10-registrant limit and filled quickly. A third class - designed to build upon instruction in the level-one courses - was scheduled to run in August. "We didn't want to over-program the park in its first year, not having anything to compare it to," Lefebvre says. "But there's been a great response. Next year, we're thinking of doing a kids' program and a combined youth/adult program. We'll just expand from there."