Student-athletes are apt to abuse alcohol, prompting one researcher to ponder why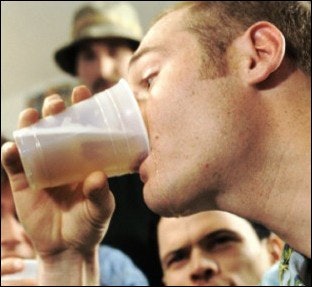 An off-campus party that included rampant underage drinking led the University of Maryland to suspend 44 members of the men's and women's lacrosse teams for part or all of the fall schedule.
A Penn State University senior basketball player is sitting out this entire basketball season on a medical redshirt precipitated by his acknowledged drinking problem.
The parents of a freshman receiver on the University of Pittsburgh football team filed a $75 million lawsuit against a priest accused of giving the 19-year-old player alcohol in the hours leading up to his fatal fall from a ceiling crawlspace on church grounds.
Toxicology reports performed on a University of New Mexico basketball player found his blood-alcohol level to be nearly twice the state's legal driving limit at the time he committed suicide in August.
These developments - all of which emerged this past September - are symptomatic of a growing concern in college athletics. Separate studies performed within the past seven years by researchers at Harvard University, Southern Illinois University and the NCAA concur that, in fact, disparity exists between athletes and non-athletes in terms of alcohol consumption. "It's not that more athletes drink than non-athletes, it's that athletes tend to drink more," says Matthew Martens, an assistant professor in the department of educational and counseling psychology at the University at Albany, State University of New York.
Martens, the lead author of "Measuring Motivations for Intercollegiate Athlete Alcohol Use," a study appearing in the June issue of the American Psychological Association's quarterly journal Psychological Assessment, claims to be the only researcher actively attempting to determine why college student-athletes are at particular risk of becoming binge drinkers.
Theories have existed for years. Some feel the added pressure heaped on student-athletes can lead them to seek emotional escape through alcohol. Others point to the culture surrounding big-time sporting events and broadcasts, with their heavy emphasis on alcohol-fueled fun. Martens' research has found that student-athlete drinking motives don't stray far from those of their non-athlete classmates. "Primarily both groups use alcohol for social reasons - to enjoy a party, to have a good time," Martens says. "The coping motives for using alcohol really aren't that strong, but there does seem to be something specific about the athletic culture itself."
Martens' ongoing work in this area includes one project that attempts to examine the athletic culture in greater detail. He contends that motivating factors exist for athletes that don't necessarily exist for non-athletes. "Having a good time with teammates, enjoying a party after a game or hard practice - those did turn out to be useful in predicting alcohol use among athletes," he says.
That said, the jury appears out on whether certain sports lend themselves to heavy drinking among participants, based on results of past research. Track and field and men's basketball exhibit low prevalence, as one might expect based on the physical conditioning demands placed on the athletes involved. But then, prevalence is relatively high amid the rigorous training environment that is women's swimming. Martens believes that tradition may trump sport type as a motivating factor. "I think that it has more to do with the culture of the team - or even possibly the athletic department - at a particular institution. If you have a team, regardless of what team it is, where it's sort of the norm on that team to go out and party, then that kind of sport-related factor is going to have an impact," he says. "The baseball team at University X may not have that particular norm or that environment, whereas the baseball team at University Y might."
Individually, is it possible student-athletes possess feelings of invincibility and entitlement from their status on campus and from having been reared as members of an elite group? "I think it's those things, and I think it's opportunity. If you're a high-profile college athlete and you go out to a bar or to a party, people are going to be buying or giving you drinks," Martens says. "I also think it's a competitive thing. Athletes are so used to competing with each other that if a group of them goes out, drinking can easily become a competition within that group. There are a whole host of reasons why student-athletes drink. The challenge is trying to measure them and study them, which is what I'm trying to do right now."
The more immediate concern for athletic administrators is what can be done to curb excessive drinking among their own athletes. This summer, the University of Wisconsin took an outwardly punitive approach when it unveiled a policy addressing, among other vices, the type of violence displayed earlier this year by a member of the school's hockey team during a barroom brawl in which the player punched a police officer. Still, according to the policy, which was instituted to standardize disciplinary actions across all sports, athletes who break team rules regarding alcohol consumption but don't break the law will be subject to penalties per their coaches' discretion. Meanwhile, Iowa State University athletic officials sought the input of a substance abuse counselor in dealing with its basketball team's recent rash of alcohol and drug violations. On the passive end of the educational spectrum, Vanderbilt University is one of many schools that include alcohol-related information and links on its athletics web site.
Perhaps the most popular approach to combating college students' binge drinking has been to emphasize social norms. Students are presented national statistics that show, against popular belief, that most college students don't use alcohol. Some schools believe that debunking such drinking myths will resonate with athletes, as well. Four of the 11 schools that received NCAA alcohol-education grants in May specifically mention social-norms campaigns in their program outlines.
Martens says (and a new University of North Carolina study confirms) that the social-norms approach can work as a mass-media campaign, but he sees equal promise in a process of motivational interviewing (based on the work of researchers at the University of Washington) as a way to directly reach those athletes at greatest risk of developing full-blown drinking problems. Motivational interviewing represents a brief one- or two-session intervention conducted by a trained counselor (not necessarily a psychologist) and designed to raise the at-risk individual's awareness of the actual amounts he or she is drinking, as well as potential consequences. Referrals can come from athletic administrators, coaches or teammates, though the program must be non-confrontational, non-judgmental and confidential, according to Martens, who discussed this and other student-athlete behavior-modification strategies during separate October appearances at the Association for the Advancement of Applied Sports Psychology's annual conference and the U.S. Department of Education's annual meeting on alcohol and other drug abuse prevention in higher education.
"We know motivational-interviewing and social-norms programs work, but to effectively use them with athletes, they need to be modified to make them more relevant to athletes," he says. "Motivational interviewing has never been studied with college athletes, so we don't know if it works as well with them. The principles should apply. But when you're doing these kinds of things with athletes, you should incorporate the sports-specific aspects of their culture and their lives."
Martens cautions that only so much can be read into recent headlines airing the alcohol-stained dirty laundry of student-athletes and entire athletic departments. "These types of things happen to college students all the time, but if it's a Division I athlete, it ends up on ESPN.com," he says. Yet, the fact remains that, on top of findings that athletes are more apt than non-athletes to binge drink, studies indicate that they are also more likely to experience alcohol's negative consequences - ranging from missed classes to injuries to trouble with the law.
Says Martens, "The message for athletic departments is: Look, this isn't something that you can ignore. Statistically, the chances are your athletes are going to be drinking more than the non-athletes on campus. And for a whole host of reasons - athletic performance, general health of your athletes - it would be a good idea to start implementing some preventive-type programs that are specific to the athletes. Don't just give a half-hour lecture at the beginning of each semester, but really think about ways you can continue to work year-round on this issue."