Recognizing outstanding youth sports programs.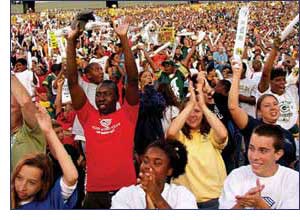 Running youth sports programs isn't easy. In fact, working with kids of drastically different abilities from dramatically diverse backgrounds may be one of the toughest jobs in all of the athletics, fitness and recreation world.
That's why the five organizations that earned the 2004 National Alliance For Youth Sports' Excellence in Youth Sports Award deserve not only our attention and respect, but also serve as role models for thousands of similar programs around the country. Additionally, all but one of this year's winners has either claimed other state or national honors in 2004 or been tabbed by parent organizations to sponsor important pilot programs. Each winning organization also has undergone a transitional period during which its administrators implemented changes - some of them controversial - that ultimately made its programs stronger.
"When you're applying for this, that application shows you your strengths and weaknesses," says Tim Orvin, athletic director for St. Andrew's Parish Parks and Playground in Charleston, S.C. - one of this year's winners, as well as the 2004 South Carolina Recreation and Parks Association's agency of the year. "It reveals important things about your department and philosophy. I wish everybody would give this process a shot, but it's definitely not the easiest thing I've done, that's for sure."
If operating quality youth sports programs were easy, we wouldn't need programs like the Excellence in Youth Sports Awards. Developed by NAYS and Athletic Business, the awards honor programs that are doing superior jobs of conducting diverse activities with a focus on providing safe and positive experiences for all participants - including children, parents and coaches.
The 2004 winners were chosen from among 101 organizations that submitted applications for this year's competition, which was open to military bases, parks and recreation departments, YMCAs and YWCAs, Jewish Community Centers, Boys & Girls Clubs of America, Catholic Youth Organizations and independent leagues and organizations. A panel of judges reviewed each application and selected the following winners, in alphabetical order:
Each winning program will receive $1,500 worth of background checks from Southeastern Security Consultants Inc., $1,000 in photography services from The Sports Section photo company, $700 in league-management services from ContactMyTeam.com, $500 in cash from GeneralSports Turf Systems, and $500 in coaches' and parents' certifications, courtesy of all awards sponsors.
Former All-Star Cal Ripken Jr., who holds the record for most consecutive Major League Baseball games played, presented the awards at the Athletic Business Conference in Orlando, Fla., in November.
Congratulations to this year's winners, and thanks to all the organizations that entered the 2004 Excellence in Youth Sports Awards competition.
280th Base Support Battalion Child & Youth Services, Schweinfurt, Germany APO
The challenges of running a youth sports program change on a daily basis, but those challenges often seem magnified on a military base. That's something Kevin Halligan, assistant director of the 280th Base Support Battalion Child & Youth Services at the U.S. Army base in Schweinfurt, Germany, quickly discovered when he signed on in 2002 after having been involved in adult-sports program administration while serving in the U.S. Air Force.
"Our soldiers are deployed, and many children have no father figure to ask questions about the sport that they are playing or to just talk to," Halligan says, adding that he and his staff are trained by counselors to help kids cope with displaced anger, sadness and introverted emotions. They also have specific contact people on the base who can ensure that the parent of a child in need has the tools necessary to address those needs.
That kind of dedication requires teamwork between various on-base entities -- something at which the 280th Base Support Battalion excels, thanks to its effective Special Needs Resource Team (SNRT). Involving Child & Youth Services, Base Nurse and Army Community Services, SNRT is a multidisciplinary team established to oversee appropriate placement of children with such special needs as autism, asthma, hearing impairments, diabetes, mental or physical challenges, behavioral issues and speech or language difficulties.
"When we are made aware of a child's special needs, we then inform that child's coach of the situation," Halligan says. "The coach and Child & Youth Services staff member talk with the parent about recommendations the SNRT team has made. This helps the child in sports, because with an informed coach and staff aware of the child's needs, he or she is able to play sports safely."
In addition to established base programs, Child & Youth Services recently teamed with the Los Angeles-based Character Counts Coalition to help strengthen the character of young people via what it calls the "Six Pillars of Character" -- including trustworthiness, respect, responsibility, fairness, caring and citizenship. "The program was put into place due to recent difficulties with parents, players and coaches -- bad sportsmanship, lack of respect for coaches and referees among players, and lack of respect for referees among players and parents," Halligan says. Time will tell if the base's "Character Counts" program will foster change and create a better environment for all youth sports participants.
If it doesn't, it won't be for lack of effort. In another attempt to help build character, Halligan and his staff attempt to de-emphasize winning, especially with children younger than 9 years old. "Our primary emphasis is having the youths do their best and have fun," Halligan says, adding that scores are kept during games for older kids, but win-loss records are not tracked. "We treat each game as a practice game and there are no championship games, only jamborees, which are season-ending celebrations for all of our sports programs. The non-competitive nature of our programs makes a jamboree a perfect tool to accomplish our goals."
Boys & Girls Club of Green Bay, Wis.
In 2003, the AAU high school basketball team at the Boys & Girls Club of Green Bay won the North American Youth Sports national title -- a feat the team didn't repeat in 2004 at the Prime Sports National Tournament, where it went 1-3 in championship play. But while winning games is nice, it's not of utmost importance to either the club's administrators or the team's players.
Rather, the goal of the club's AAU program, whose team competes in Wisconsin and around the Midwest each spring and summer, is to provide both academic and athletic opportunities for kids who don't make their school's team, lack the confidence to try out for the team or are academically ineligible. Coaches offer study halls and tutoring sessions prior to practices and help players prepare for the ACT test -- a participation requirement. Last year, 80 percent of the high school seniors on the team enrolled in college.
"What kind of ACT scores are we realistically expecting? Not the best," admits Steve Tisch, athletic director at one of two Boys & Girls Club clubhouses in Green Bay. "But as long as the kids take the test, there is still an option for them to do something academically. A lot of kids don't want to take the test because they don't see a need for it -- especially if they're not going to go to college."
Since the AAU high school basketball program began two summers ago, Tisch and his staff have monitored the grades and school attendance records of the club's dozen or so players and helped keep the players out of trouble and in control of their futures. "You get them to realize that even though they may have messed up before, college is still a possibility," says Tisch, who adds that he would like to implement similar team programs for other sports.
That kind of commitment to young people is one of the reasons this nonprofit organization received a Merit Award for program excellence in sports, fitness and recreation from the Boys & Girls Clubs of America earlier this year -- one of only three clubs recognized from among more than 3,500 member organizations.
Another reason for the club's success is its diversity of alliances. Two major partnerships involve the NFL's Green Bay Packers, whose players in the past have volunteered to help kids paint clubhouses and landscape their surroundings. The team also donated 1,100 tickets to Boys & Girls Clubs in Green Bay and around the state for an August intrasquad game. Another partnership, called Got Sports?, involves student-athletes from St. Norbert College in nearby De Pere teaching skills in their chosen sport to small groups of club members during four- to six-week sessions.
"There's a lot to be said about the partnerships we have," says Johanna Wicklund, director of the club's program development and evaluation. "We really try not to compete with other things that are existing in the community, so we don't duplicate services."
St. Andrew's Parish Parks and Playground, Charleston, S.C.
In March, the South Carolina Recreation & Parks Association developed and encouraged municipalities to adopt "Our Promise to Kids," a six-part youth sports philosophy. The promise includes offering a fun, safe and positive playing environment, providing positive role models, increasing minimum playing times, encouraging self-confidence and respect, creating opportunities to make new friends, and continuously improving and enhancing programs.
"'Our Promise to Kids' says that we recognize the value of youth sports and are going to do our best to deliver on that promise," says Tim Orvin, athletic director for St. Andrew's Parish Parks and Playground, one of the first organizations in the state to adopt the promise. "Sometimes we forget about our customers, and our customers are the kids. Mom and dad may pay for their kids to participate, but the kids are the ones who are playing."
"Our Promise to Kids" is the first fruit of the South Carolina Youth Sports Task Force, made up of parks and recreation administrators from around the state to help each other better perform their jobs. As the SCRPA's 2004 agency of the year, St. Andrew's Parish Parks and Playground is one of the lead organizations on the task force, which is still mapping out future plans. Meanwhile, Orvin is simply trying to keep his department's promise to kids by: Reducing the number of players on teams in an effort to increase individual playing time. "Sometimes we even start each half in basketball for our younger kids with each player shooting a free throw," Orvin says.
Making it easier for parents to participate in the mandatory Parents Association For Youth Sports (PAYS), a National Alliance For Youth Sports program that educates, motivates and holds parents accountable for their behavior on the sidelines and behind the scenes. This fall, St. Andrew's Parish Parks and Playground began allowing parents to undergo PAYS training online, rather than in an actual meeting environment. Online users view a downloadable video and click to accept the program's code of ethics. Orvin reports that the online program has been popular with busy parents and expects its usage to climb significantly.
Offering coaches more guidance in running practices and promoting team unity. The organization advocates drills involving the entire team at the same time. In basketball, for example, dribbling exercises can become a game of tag, in which the dribbler tries to steer clear of other players. "We don't want practice to be one kid being active and 10 kids standing around," Orvin says. "Our coaches are volunteers. They're lawyers, firefighters, office workers. This is not their expertise. If we can help them do their jobs here better, then the kids are going to reap the benefits."
Town of Hamburg (N.Y.) Recreation Department
Over the years, the Town of Hamburg Recreation Department has developed many strong partnerships with area businesses and professional sports teams, as well as with independent youth organizations. One of its most notable relationships is with the NFL's Buffalo Bills, who during the course of the regular season allow about 200 of Hamburg's flag football players to hold an exhibition game in the team's practice facility on game-day Sundays before treating them to seats in Ralph Wilson Stadium.
It is the department's recent alliance with a new program developed by the National Recreation and Park Association, however, that represents what director of recreation Martin Denecke says is "the culmination of all we've been working toward in youth sports."
Through funding from the NFL, the NRPA earlier this year designated 38 U.S. cities, including Hamburg, as Magnet Centers for Quality Sports. These "centers of excellence," as the association describes them, have held individual youth sports summits to help area administrators and volunteers focus on more effective coaching strategies, pay closer attention to skills development and expand parent-education tools. "We think we're ahead of the curve," Denecke says. "We are already doing the things that the NRPA is trying to get feedback on through the Magnet Centers program. To me, it was a natural fit."
Indeed, Hamburg is most likely one of the first municipalities in the country to hire someone like Tim Jerome, a full-time certified youth sports administrator, to oversee its programs, develop and maintain its partnerships and ensure that administrators, coaches and parents never lose sight of the department's philosophies. "We run a very busy department, and youth sports is not the only thing we do," Denecke says. "We throw a lot at Tim. This is a position that was created, so we had to convince our town board that this was a vital position and that the time was right to fill it."
Jerome is a former volunteer coach who remained involved in youth sports long after his own children stopped participating. After working for Hamburg's recreation department in a part-time capacity, he participated in the National Alliance For Youth Sports' Academy for Youth Sports Administrators and moved into his new position in January 2004. Denecke reports the transition has been a smooth one, thanks to the groundwork laid by recreation supervisor Joe Wenzel, and Denecke encourages other communities to consider taking the same route. "I think we may see the position cropping up more often as the title gets more recognition," he says.
Having a person like Jerome has helped Hamburg recreation officials better supervise 18 independent organizations that run 14 sports leagues through Hamburg's department. The town provides start-up funds, facilities and maintenance in return for volunteers who oversee the programs. Because each independent organization has its own decision-making body, the department formed the Hamburg Youth Sports Partnership earlier this year to ensure that all entities are on the same page when it comes to expectations and responsibilities. "These are youths in our community," Denecke says, "and even though they're not directly part of our programs, we want to give them as much support as possible."
Tyndall Youth Activities, Tyndall AFB, Fla.
Two springs ago, a baseball coach from the parks and recreation department in a nearby Florida municipality recruited eight players from Tyndall Air Force Base's Youth Activities program. "I couldn't even field a team, he took so many of them," says Bruce Mason, Tyndall's youth center sports director. "But most of the players he recruited sat on the bench. So the next year, the players came back to me, and we won the city championship. That goes to show you that noncompetitive rec sports can be competitive if the right blend of determination and good coaching is there."
That blend has served Tyndall Youth Activities well during Mason's eight-year tenure overseeing traditional sports programs like soccer and basketball; lifetime sports such as tennis, archery, skating and surfing; multiple sports camps and clinics; and special events such as Pepsi-sponsored NFL Punt, Pass & Kick and Major League Baseball's Pitch, Hit & Run competitions.
"This is mostly a basketball, baseball and soccer area," Mason says. "Everybody around here offers things like that. So we have a fitness coordinator who emphasizes out-of-the-norm sports."
Enter Andy Wallace, a former physical education teacher who joined Tyndall Youth Activities five years ago and, among other things, has helped land a $16,000 skate park for the base and invites skateboarding pros to teach skills and tricks to enthusiastic kids looking for an alternative. "The Air Force gives us a lot of freedom," Wallace says. "We can bring our own interests to the job, which creates a good work environment."
What Wallace brought to his job was a background teaching in elementary schools. As a result, Tyndall is the first Air Force base -- and one of only nine organizations in the country - to offer five Start Smart programs (baseball, basketball, golf, soccer and general sports), which were developed by the National Alliance For Youth Sports to help prepare young kids for participation in organized sports. This fall, Tyndall sponsored a pilot Start Smart football program for kids ages 4 to 7. The base's experiences will be used to help shape Start Smart football programs in civilian and military communities around the world.
Also beginning this fall, Tyndall AFB joined more than a dozen other bases in kicking off the Air Education Training Command's "Fit 4 Fun" program. Targeting boys and girls between the ages of 9 and 18, Fit 4 Fun is an interactive program that awards points to kids who engage in any number of physical activities -- from individual pursuits (like running and hiking), to a variety of team sports, to household chores (mowing the lawn or walking the dog). "What we want to do is get kids more active," Mason says. "Any time you can get kids away from their computers and get them involved in any kind of exercise at all -- just get them moving -- you can then start to get them thinking about other activities."