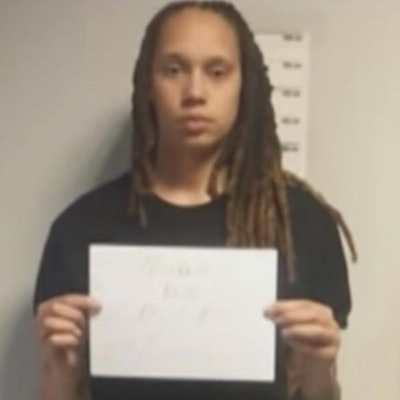 Griner to Russian judge: 'I hope in your ruling it does not end my life'
WNBA Phoenix Mercury star and two-time U.S. Olympic basketball gold medalist Brittney Griner, who according to the Biden Administration has been wrongfully detained in Russia for months, was convicted of drug charges and sentenced Thursday, the Associated Press reported.
Griner was sentenced to nine years in prison following a trial that came amid soaring tensions between Moscow and Washington over Ukraine, according to the AP. The situation could lead to a high-stakes prisoner exchange between the two countries.
U.S. President Joe Biden called the verdict and sentence "unacceptable."
"I call on Russia to release her immediately so she can be with her wife, loved ones, friends, and teammates," Biden said, adding that he would continue to work to bring home Griner and Paul Whelan, an American imprisoned in Russia on an espionage conviction."
The WNBA and NBA released a joint statement denouncing the Russian court system and process, and noting that the United States has said it is working to get Griner released.
"The WNBPA stands with Brittney Griner. With a 99% conviction rate, Russia's process is its own. You can't navigate it or even understand it like our own legal system," the statement read. "What we do know is that the U.S. State Department determined that Brittney Griner was wrongfully detained for a reason and will continue negotiating for her release regardless of the legal process. We'll leave it at that."
Reports said Griner, 31, listened with a blank expression Thursday as an interpreter translated the verdict by Judge Anna Sotnikova. The judge also fined her 1 million rubles (about $16,700), the AP reported.
Before the unusually swift verdict was reached, Griner apologized to her family, teammates and the Russian city of Yekaterinburg, where she plays in the WNBA offseason, "for my mistake that I made and the embarrassment that I brought on them."
Griner, briefly emotional, added: "I hope in your ruling it does not end my life."
A conviction is usually a prerequisite to arranging a prisoner exchange and also allows Griner to apply for a presidential pardon. Deputy Foreign Minister Sergei Ryabkov said last month that the "necessary judicial procedures" must be completed before any other steps can be taken.
RELATED: 'Terrified I Might Be Here Forever': WNBA's Griner Writes to Biden From Russian Custody
RELATED: WNBA Star's Detainment in Russia Extended to May
RELATED: Lawmaker Working to Help WNBA's Griner Detained in Russia
In a letter received by president Joe Biden on July 4, Griner — who has been detained since Feb. 17 — said she was scared, and that she worried she might not leave Russian custody. On July 7, Griner pleaded guilty to the charges in a Russian court near Moscow. Griner had pleaded guilty with the aim of receiving a lesser sentence, and also as a pretext for a possible prisoner exchange, CBS reported.
On July 10, vice president Kamala Harris told CBS News that bringing Griner home is "one of our highest priorities."
During the WNBA All-Star Game in Chicago, the players kept attention on their imprisoned teammate and came out of the locker room after half time all wearing jerseys with Griner's name and No. 42 on it. Before the game, Griner's name was announced along with a graphic of her while her initials were displayed courtside.