Stanford University offers a money-back guarantee to first-time season-ticket buyers.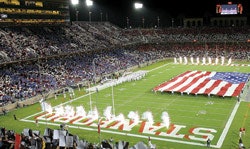 Since losing the 2001 Seattle Bowl, the Stanford University football program hasn't produced a winning season. Yet, the Stanford athletic department, emboldened by a stunning upset victory at the University of Southern California last season under first-year coach Jim Harbaugh, is standing by its 2008 product. In the event that any entry-level season-ticket buyer is not entirely satisfied with the Cardinal football gameday experience this fall, Stanford will return his or her full investment - provided he or she requested the school's new Gridiron Guarantee option at the time of purchase.
"If you believe in your product, you put a guarantee out there," says Bob Carruesco, Stanford's assistant athletic director in charge of marketing. "Our primary goal is to introduce new people to Stanford football, and that's what we're hoping to achieve with a program like this." Adds Rich Muschell, assistant AD of ticketing, "I think it makes the exact statement that we're trying to make: You're going to come here and have fun."
And despite the reduction in 2006 of Stanford Stadium's capacity from 85,000 seats to 50,000, there's still plenty of room for newcomers. Roughly 28,000 season tickets are sold in any given season, according to Carruesco, and the Cardinal have yet to completely fill the renovated stadium, averaging 42,259 fans for each of the 13 games played there over the past two seasons. A mere 31,403 fans on average witnessed the first three home games of 2008.
When asked on the eve of Stanford's Aug. 28 opener how many fans had taken advantage of the Gridiron Guarantee (available only in end zone and corner seating sections), Muschell admitted "about a dozen." Many more first-time buyers chose not to take advantage of the promotion, which requires fans to ask for their money back before the marquee game on the home schedule - a Nov. 15 rematch against the Trojans. Dissatisfied fans not only need to fill out a request form by then, they have to turn in their USC ticket, too. "I don't think a whole lot of people are really going to want to do that," Muschell says, the hope being that once fans get a risk-free taste of a Stanford gameday, they'll be in for the long haul - this season and beyond. "Still," Carruesco is quick to add, "the greatest marketing ploy of all is winning football games."