Bargains abound at the ballpark to ease fans' financial pains (not to mention hunger pangs).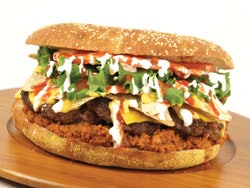 Bargains at the ballpark used to be harder to find than a fly ball in the stadium lights. But several Major League Baseball franchises have made recent efforts to ease fans' financial pains (not to mention hunger pangs) at the concessions stand. Remember last season, when nearly half of all MLB parks designated all-you-can-eat seating sections? Back in 2006, the Tampa Bay Rays, who finished last in their division during seven of the team's first eight years in existence, began selling $1 hot dogs on eight Monday nights. The Arizona Diamondbacks thanked fans who had endured what would end as a hugely disappointing 51-111 2004 season by cutting concessions prices in half across the board during the team's final home stand.

Now, with times as tough as a $7 steak, more teams than ever are trimming prices to both satisfy fans and fatten attendance figures. A few are trotting out such fast-food-industry staples as dollar menus and meal deals, even as parking and ticket prices hold steady. During select games at Milwaukee's Miller Park this season, one concessions stand will offer a smaller-than-normal hot dog, a 12-ounce soda, a 24-ounce cup of popcorn, a small ice cream cone and a large cookie for $1 per item. Fans were anticipating long lines before the Brewers even opened the season. "People will miss innings of ball in order to save a few bucks," wrote one individual in response to a Milwaukee Journal Sentinel report. "I'm thinking they're gonna need more than just one dollar stand!" The division rival Cincinnati Reds apparently see it that way, as Great American Ballpark now offers two stands with dollar menus.

The Pittsburgh Pirates are serving so-called Dollar Dogs at all 13 Friday night games at PNC Park, as opposed to only five Wednesday nights in 2008. In San Diego, fans can purchase the Padres Stimulus Package - a regular hot dog, a 22-ounce soda, a medium bag of popcorn, a small bag of peanuts and a large cookie for $5. Purchased separately, the food would cost $8 to $10 more, Richard Anderson, the Padres' executive vice president of ballpark management, told Sports Business Journal. The hot dog alone would cost $4. Pricing on select concessions at New York Mets games has gone the way of Citigroup stock (but not nearly as far), dropping between 15 and 29 percent from a year ago, despite the fact that the team is breaking in its new $850 million ballpark, Citi Field.

Downsizing isn't for everyone, though. The West Michigan Whitecaps is one Minor League franchise that's thinking big this season. For $20, fans attending games at Fifth Third Ballpark can purchase the Fifth Third Burger, a sandwich featuring five third-pound beef patties, five slices of cheese and nearly a cup of chili inside a sesame-seed bun made from one pound of dough. Susan Levin, a staff dietician for the Washington D.C.-based Physicians Committee for Responsible Medicine, sent a letter dated April 1 to the Whitecaps requesting that the 4,800-calorie "dietary disaster" carry a label: "WARNING - Eating meat is associated with increased risk of heart disease, cancer and death." A team spokesperson told the Associated Press that the burger represents a gimmick, and is in fact being promoted as unhealthy.

In addition to everything else, will that 8-inch bun hold value for fan and franchise alike? Too soon to tell. But at least individuals who manage to consume the four pounds of food before the final out is recorded will receive a free T-shirt.