It's official: The most popular songs played at professional sporting events also are the ones you least need to hear again. Is anyone surprised that Queen's iconic 1977 hit "We Will Rock You" was the most-aired song at National Football League, National Hockey League and Major League Baseball games last season? After all, it's propelled by that energetic "stomp, stomp, clap" that's a surefire way to rile up fans. In fact, in middle school, my friends and I would work ourselves into a frenzy recreating that sound on the back of school bus seats. But now I could go without hearing "We Will Rock You" for the rest of my life.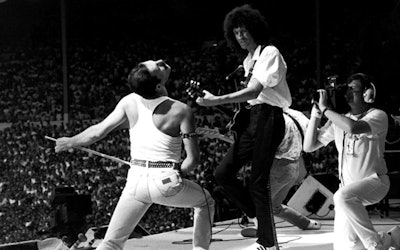 The list, released yesterday by Broadcast Music Inc. (BMI), which licenses more than half the music played in America, also includes these ditties:2. "Pump It!" - The Black Eyed Peas3. "Twilight Zone" - 2 Unlimited4. "Song 2" - Blur5. "Rock & Roll, Pts. 1 & 2" - Gary Glitter6. "Black Betty" - Ram Jam7. "Cowboys From Hell" - Pantera8. "Stronger" - Kanye West9. "Let It Rock" - Kevin Rudolf10. "Put On" - Young Jeezy
Really? Rankings like these make me wish that more stadiums and arenas - and the athletes who play in them - would get a little more creative. Take Trevor Hoffman of the Milwaukee Brewers. When the San Diego Padres released the All-Star closer after the 2008 season, they also let go of AC/DC's "Hells Bells," Hoffman's rousing entrance song that he has used for more than a decade.
Regardless of what you think of the band or the lyrics, "Hells Bells" has the power to transform a baseball game into a rock concert. I got goose bumps the first time I heard those ominous introductory bells ring out loud and clear and better than expected through the sound system at Milwaukee's Miller Park as the 42-year-old trotted from the bullpen to the pitcher's mound. And the crowd goes nuts every time Hoffman takes the field.
This list needs more memorable anthems like "Hells Bells"; it's effective, timeless and classic - just like "We Will Rock You." But way better.