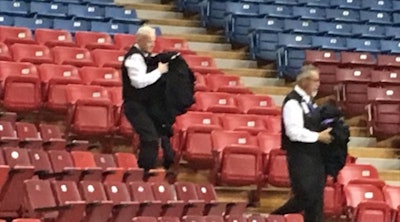 The Sacramento Kings' Monday night game against the Milwaukee Bucks got off to a rough start. Approximately 90 minutes before tip off a t-shirt giveaway was canceled -- after the shirts had been placed on every seat in the facility.
The t-shirts were intended to celebrate the Lunar New Year, which begins February 8 and feature a graphic of a monkey, in honor of the Year of the Monkey.
Monday also happened to be the first day of Black History Month, sparking concerns that the shirts would be construed as racially insensitive.
Sacramento Kings' DeMarcus Cousins was one of the first to raise concern, prompting the quick removal of the shirts. The Bucks' TV analyst and former player Marques Johnson also described the situation on Facebook.
"We all need a lesson in sensitivity," Kings president Chris Granger told the Sacramento Bee. "In an effort to celebrate Chinese New Year, we had some concerns about the T-shirt giveaway, so we pulled them all before the doors opened. Certainly we don't want to offend anybody, and we acted as soon as we heard the concern."
DeMarcus voices his displeasure and to the Kings credit they pull the Monkey T Shirts... pic.twitter.com/bHSz4KVinh

— Marques Johnson (@olskool888) February 2, 2016
Johnson tweeted that the takedown of the t-shirts was a "good move" on the team's part, continuing, "year of Monkey Tees on 1st day of Black History Month not a good look. Thanks DeMarcus."