In the ever-changing landscape of collegiate athletics, engaging fans has become more important than ever. There are countless ways for fans to consume sports content, and sports marketing administrators have to develop creative promotions to engage their fanbase in order to drive attendance. With a thoughtfully crafted campaign, sports teams can build relationships with fans and keep their stands full even while competing with the wide variety of entertainment options at fans' fingertips.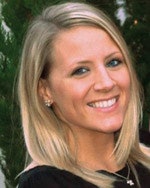 Under the umbrella of the National Association of Collegiate Directors of Athletics (NACDA), the National Association of Collegiate Marketing Administrators (NACMA) offers a variety of programs and workshops aimed at developing, evaluating and promoting the collegiate athletics marketing profession and its effectiveness. Here, four of NACMA's board members share some of their biggest fan-engagment successes.

1. Use social media to build relationships
Social media is a great tool to keep fans informed, but it's an even greater tool for building and maintaining two-way relationships. Though it can be difficult to measure return on investment on ticket sales from social media, it remains a powerful mechanism for storytelling and interaction.
Arizona State University associate athletics director Becky Parke says ASU was among the first universities to create a specific social media position within its athletics department. "We have put a lot of resources behind our social media efforts, which include interacting with fans, in-game presentation integration and boosted posts meant to drive ticket sales," she says.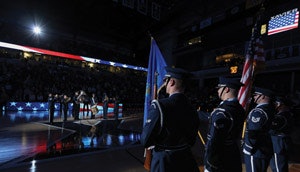 The marketing team at the University of Northern Colorado recently implemented a promotion utilizing Tagboard to encourage attendees to share their experiences at games. The team motivates fans to use the hashtag #GoUNCBears in its Twitter, Instagram and Facebook posts with a chance to see their content shared on the school's video board and/or the athletics website.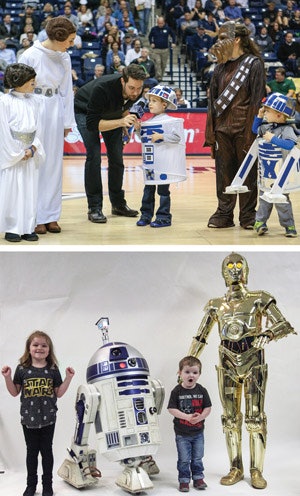 2. Take theme nights to the next level
Theme nights are not new to the sports marketing world, but their execution is evolving. The NACMA marketing experts say schools should be "all in" when planning these special events.
Many athletics departments host a military appreciation night, but Xavier University tries to go the extra mile each year. The Musketeers provide complimentary tickets to active-duty service members and veterans, bring military vehicles on campus for fans to explore, and include the local Air Force base in the national anthem performance and presentation of the colors. They've even held on-court ceremonies where new service members are sworn in by a local commander. On one special occasion, an ROTC member rappelled into the game from the arena's rafters to present the game ball.
For its holiday-themed night, Northern Colorado plays holiday music throughout the game, coordinates an ugly sweater competition and brings in Santa Claus to take pictures with kids. Fans wrap gifts as quickly as possible wearing oven mitts during an in-game promotion.
K-State held a "Star Wars Night" coinciding with the most recent film release. Fans were encouraged to dress up, and beloved characters C-3PO and R2D2 were on hand to mingle with the crowd. Smoller notes that the promotion attracted first-time attendees.
ASU hosted a "Princess Day" at a women's basketball game and saw a 69 percent increase in single-game ticket sales compared to other Sunday games the same season. The promotion resulted in the school's second-highest number of tickets sold, second-highest single-game revenue, fourth-highest attendance of the year and second-highest Sunday attendance of the year.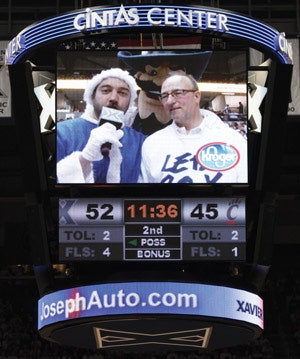 3. Create unique group sales offers
Schools can build on theme nights by tailoring events to specific audience segments to drive group sales. At Northern Colorado's Hispanic Heritage Day, unique menu choices were offered at pregame tailgates. The team created a special logo and T-shirt for the game, and the PA announcer introduced the starting line-ups in Spanish. Partnering with the university's cultural center made the event an even bigger success.
K-State is offering a series of "Craft & Draft" nights that targets families and groups of friends for a social outing to the game. The ticket package includes a pregame crafting event with appetizers and a free drink voucher. Volleyball attendees made a nail and twine Powercat, the school's logo, while women's basketball attendees will paint their own mugs and enjoy a hot chocolate bar.
Xavier has seen exceptional success with its Youth Basketball Night, where discounted tickets are sold to local youth basketball teams. To kick off the event, the assistant coach gives a pregame chalk talk after which the young players are treated to a shooting exhibition. All teams are invited to take a photo on the basketball court for the ultimate souvenir. The event not only drives ticket sales (1,700 in the Cincinnati area), but also helps to create the next generation of fans.

4. Thoughtful giveaways are still golden
Promotional giveaways are a classic sports marketing tactic, but the NACMA experts recommend choosing giveaways wisely. Pick items that are useful or fun and go along with the sport and/or theme night. The K-State team caters to its students when designing giveaways for theme nights. A K-State shirt depicting a Power Rangers motif was created for a '90s-themed event. Smoller credits food giveaways in creating big draws, with "Bacon Night" generating national media coverage.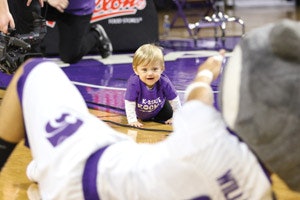 5. Extend the experience
The game experience shouldn't be limited to the sporting event, but should be engaging before, during and after. This is a crucial element to Arizona State's recipe for success. One of the school's biggest triumphs has been its "Fan Stories." Fans are asked to send in their personal stories relating to the team. Each football game features one story. The school develops a 90-second video of the selected story, which runs after the first quarter. "You can see our fans turn their attention to the video board as soon as the quarter ends and the reaction is tremendous week in and week out," Parke says. "Some stories are funny while others are heartwarming. Whenever possible, we recognize the fans on the field immediately after the video."
To excite fans about head coach Bill Snyder's 25th football season, K-State has created a social campaign around its fall football poster design, asking fans to submit photos with family and friends at games throughout the coach's tenure. The photos recreate the previously released poster design in collage format. The fans can find their photo and feel connected to the season before it starts. More than 600 photos were collected in the first week of the campaign.
Many schools fill breaks in the action with promotions. Xavier utilizes timeouts to build upon the experience for the fans. "We have an in-arena host who talks to fans and engages them during breaks," says associate athletics director for external relations Brian Hicks. "One of our favorite sponsored promotions is the 'Kroger Fan of the Game,' in which our host and mascot deliver a gift card to someone who's been identified as a longtime fan. This person is then interviewed and asked questions about their loyalty to the team." On select nights, Xavier also invites children to shoot postgame layups. K-State's in-game entertainment includes the ever-popular "Simba Cam" and halftime baby races to include all ages of the K-State family. They also utilize a mobile app for fans to upgrade seats and purchase unique experiences, such as posing for a photo with the mascot on the field before the game.

6. Focus on season tickets sales and reward loyal fans
Season tickets are crucial to building sales early on and keeping seats filled. NACMA suggests launching efforts many months ahead of the start of the season and employing a multifaceted sales campaign including email, phone, print, outdoor, digital, television and radio marketing. Xavier puts a majority of its marketing focus on advance sales. Seventy percent of attendees for basketball, the university's flagship sport, are season-ticket holders. The key to its success is the added value the school provides to its season-ticket holders and a number of different packages offered to cater to different audiences, including family four packs and a special offer for recent graduates, recognizing that those fans may not have a disposable income to purchase full season tickets.
To reward season-ticket holders, Xavier includes them in its end-of-season award banquets. For the past two seasons, its award-show-style "Let's March" reception presents student-athlete nominees in a series of highlight reels. The power then goes back to the fans, who are invited to go to the school's website and vote for the winners.


7. Know your audience
The means by which schools connect with their fan base should vary based on that base's different segments. Social media is a great tool, but more traditional means of engagement such as email and print campaigns should be incorporated, as well. For example, a large portion of season-ticket holders are older and social media may not be the best tactic to reach them. Doing a thorough analysis of a school's fan base and what platforms would be best-suited for those groups is key. This will vary by school and its community.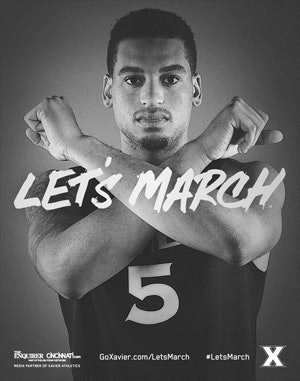 "I am of the belief you have to do a little bit of everything," says Ayo Taylor-Dixon, former senior associate athletics director at University of Northern Colorado and current senior associate athletics director at University of Minnesota. "Twenty-five years ago you could rely on two or three individual tactics. Now you have to do 25 things and tailor them to your different markets."
K-State also embraces this philosophy. "Fan engagement can be thought of in many different ways," Smoller says. "It's important that our fans feel like they're a part of the team. When they feel like they're part of the K-State family, they feel like the thing they should do on Saturdays is go to football games. It's a two-way relationship as opposed to a one-way transaction."
Adds Parke, "At Arizona State, we've been most successful with coordinated efforts. It's not just the efforts of the marketing department, but the collaboration between communications, digital media, ticket sales, marketing and game presentation that produced the best results."
---
This article originally appeared in the November | December 2016 issue of Athletic Business with the title "7 ways to engage fans and drive ticket sales." Athletic Business is a free magazine for professionals in the athletic, fitness and recreation industry. Click here to subscribe.