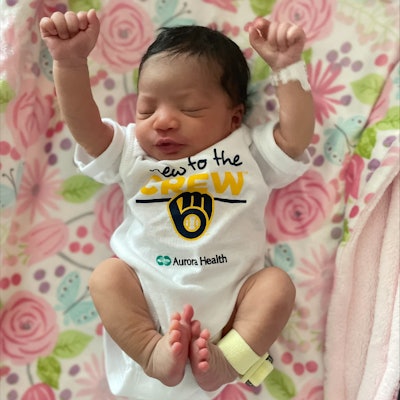 The official health care provider of the Milwaukee Brewers is celebrating the playoffs with a marketing effort targeting teeny fans.
Advocate Aurora Health began gifting newborn Wisconsinites at its birthing centers with a special, limited edition outfit this week. The "New to the Crew" onesies are being given to parents and newborns at all Aurora Health Care birthing centers in the state.
The Brewers opened the National League Division Series on Friday in a best-of-five format at American Family Field in Milwaukee starting Friday.
"While these babies are still learning that there's no crying in baseball, they're cheering on the Crew with their families and backing the Brewers' push for the World Series," Aurora Health said in a news release Thursday.
Aurora Health is one of the 12 largest not-for-profit, integrated health systems in the United States. The system serves nearly three million patients annually in Illinois and Wisconsin.
Take a look at the adorable, newest members of the Brew Crew: