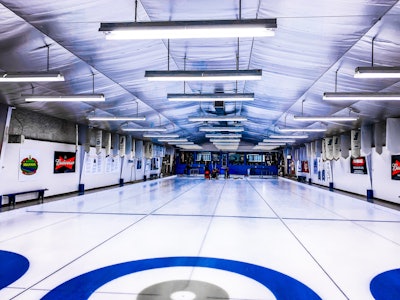 Broadcasters pulled carriage of the Curling Olympic Qualifying Event after a Dutch sex toy company plastered its logo on the ice at the event that was held in the Netherlands.
Local organizers said they were told the EasyToys adds would be nothing more than a non-explicit logo placement on the ice.
"I'm not the right man to have an opinion what is normal in which country," promoter Dagmar van Stiphout told The Associated Press. "I think they're also surprised, but it's best to ask them."
On Sunday, USA Curling tweeted that the Americans' opening-round match would not be carried due to an "unforeseen sponsorship conflict with the local organizing committee." 
In video tweeted by the WCF, the Easy Toys ads could be seen in four spots on the playing surface, and the company's name was printed along the hog line.
Van Stihout told AP that the organizers informed the WCF of its sponsorship agreements a few weeks ago.
"We informed them which sponsors there are. We spoke with them about the position" of the ads, he said. "I can imagine they are surprised about the reaction, but not surprised about the sponsors we have."
Organizers are now looking into ways to resolve the problem.
"Of course it's a pity that it's happening now," van Stiphout said. "We will go on with the tournament. We do it for the athletes. We'll carry on with the event."