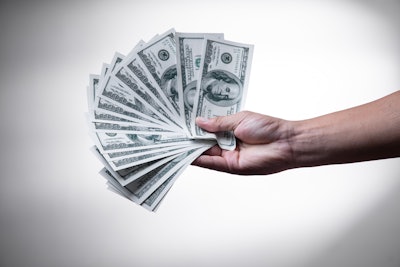 A total of 220 Ohio State University student-athletes have engaged in 608 reported NIL activities totaling $2.98 million in compensation value — leading the nation in all three categories, according to Opendorse, the Nebraska-based company hired by the Buckeyes to help athletes maximize NIL earning potential.
Seemingly not satisfied, the OSU athletic department this week announced the NIL Edge Team, an internal advisory group whose members can assist student-athletes with access and resources to successfully pursue "best-in-class" NIL opportunities, according to the department's website. The Edge Team may work with companies and brands to assist in the NIL process, and it will also have the flexibility to monitor and adapt to changing guidelines and legislation.which will help create and foster best-in-class NIL opportunities.
"We are updating our NIL guidelines to allow for the creation of the Edge Team to assist in connecting and coordinating NIL activities for our student-athletes," Carey Hoyt, senior associate athletics director and primary administrator for Ohio State's NIL programs, said.
"Our guidelines were initially created to be restrictive, but now that we have a better understanding of NIL, it's clear that we can provide more assistance in connecting student-athletes with interested brands. By allowing some OSU staff to interact with the brands and to educate and answer questions, we can eliminate hesitancy from brands, and donors, who were concerned about breaking rules."
Ohio State may be alone atop the NIL rankings, but its not alone in its quest to carve out better NIL opportunities.
University of Louisville interim athletic director Josh Heird is planning a standalone Name, Image and Likeness department committed to putting more cash in the pockets of college athletes and make the University of Louisville a more attractive destination for top talent, according to a report in the Louisville Courier Journal.
"We have to create a conduit that better connects our student-athletes to our community," Heird told the university's athletic association board Friday. "We have to show student-athletes we can maximize their earning potential during their time at Louisville."
U of L previously contracted with Opendorse to assist athletes in social media brand-building through a program known as Elevate, but Heird's hope is to build on that base to develop opportunities in one of the larger U.S. markets in which college sports dominates, the Courier Journal reported. Beyond standard endorsements Heird is interested in unlocking the potential value of NFTs (Non-Fungible Tokens).
Heird said he was in contact with Adidas representatives Thursday about creating personalized jerseys. (U of L women's basketball star Hailey Van Lith has already tapped into this market with a line of T-shirts and jerseys.)
"Quite frankly, we wish they could have rolled this program out a little bit sooner so our student athletes could take advantage of it," Heird said.
Associate athletic director Matt Banker has already added NIL responsibilities to his job title, and Heird said he expects to devote two other staff positions to the initiative and intends to launch by the July 1 start of the 2022-23 fiscal year, ideally within 60 days.
"The No. 1 priority for us is we have to put ourselves in the best position possible to attract the best talent. A lot of that is going to hinge on what we do as we move forward with Name, Image and Likeness, Heird said. "We need to stay at the forefront."
Back at Ohio State, the athletic department had been focused primarily on protective education and personal brand management during the initial six months of NIL. The ever-changing landscape, including the emergence of donor-led collectives, has created the need to have a dedicated internal team that can directly assist student-athletes as they continue to monitor the landscape, the website stated.
In addition to creation of the Edge Team, the new Ohio State guidelines will designate operations directors — not coaches — from virtually all of Ohio State's 36 varsity sports who will be educated and tasked as NIL point-of-contacts for their sports. The operations directors will be able to assist with facilitating a connection for an NIL activity while also educating outside entities on NIL best practices at Ohio State.
"We have watched national trends and we are learning from the emerging NIL collectives," Hoyt said. "Every state and every institution has its own set of NIL rules or guidelines. Updating our NIL guidelines at this time is what we needed to do to stay competitive in this ultra-competitive landscape."