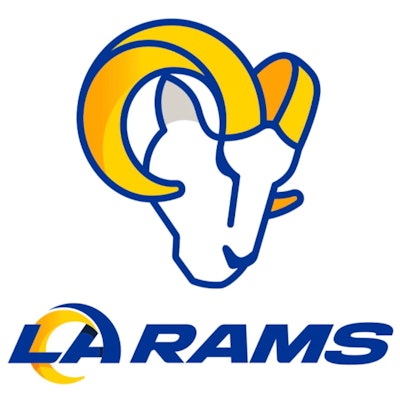 The Los Angeles Rams earned the right to host the NFC Championship Game at SoFi Stadium with a win in the divisional round Saturday, but they weren't convinced a home-field advantage was guaranteed.
That's why the Rams reportedly directed Ticketmaster to restrict ticket sales to the title game based on the buyer's address in an effort minimize the presence of San Francisco 49ers fans Sunday.
As reported by ABC affiliate KGO in San Francisco, fans attempting to buy tickets received a notice that "Public sales to the game at SoFi Stadium in Inglewood, CA will be restricted to residents of the Greater Los Angeles region," and, "Residency will be based on credit card billing address at checkout."
The restriction was lifted at 11 a.m. Monday, but only after all available tickets had already been purchased.
"The game is sold out. Our Season Ticket members bought up all available tickets during a presale over the weekend, so there is no policy in place," the Rams public relations team later said in a statement, as reported by KGO. Ticketmaster released the following statement: "Ticketmaster works on behalf of our clients, the event organizers. Ultimately these decisions lay with them and we act at their direction."
The Rams' protective nature was warranted. Niners fans showed up to SoFi Stadium en masse for a Week 18 meeting between the teams, making so much noise that L.A. quarterback Matthew Stafford at times had to use a silent count at the line of scrimmage. Stafford would later throw an overtime interception, sealing a San Francisco victory and propelling the Niners into the playoffs. Niners fans have even taken to calling SoFi "Levi's Stadium South," according to NinerNoise.com.
According to KGO, Niners fans are vowing online to snatch NFC Championship Game tickets from other vendors. Tickets that are available for purchase on Ticketmaster are all through verified re-sales.