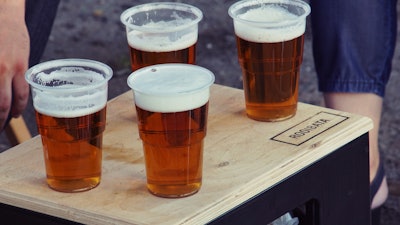 Alcohol, once considered a taboo revenue stream for college athletic departments, continues to flow onto campuses in the form of direct sales and sponsorships, as illustrated by separate headlines today alone.
The Tuscaloosa News reports that the Tuscaloosa City Council has given near unanimous approval for beer, wine and seltzer sales within the University of Alabama's Coleman Coliseum. Levy Premium Foodservice LP, the University of Alabama's concessionaire, is seeking license to sell alcohol at Crimson Tide men's and women's basketball games and gymnastics meets at the Coliseum, and now awaits approval by the Alabama Alcoholic Beverage Control Board. A quick okay could mean sales as soon as Saturday's 7 p.m. men's basketball matchup with the University of Kentucky.
A representative for Levy Premium Foodservice told the News that all employees and contractors involved with the sale of alcohol have undergone responsible vendor training. Every purchaser of alcohol, no matter his or her age, will be asked to provide identification, the representative said.
Alabama athletic director Greg Byrne said UA will be following state and SEC alcohol policies. The SEC first allowed hard liquor sales in suites, before opening beer and win availability to general seating. Conference members LSU and Ole Miss were quick to expand sales, while Alabama was among the last holdouts.
"It's something a lot of our fans have been asking for," Byrne said last week. "We've been able to watch the other schools and the reporting we have gotten back from other schools is that alcohol incidents at their games actually go down once they sell because it's a much more controlled environment."
There is no word on whether Byrne or other UA officials will opt to allow the sale of alcoholic beverages during football games at Bryant-Denny Stadium. Additional council action would be required should UA decide to expand the sale of beer and wine at on-campus venues beyond Coleman Coliseum.
For now, all but two Coliseum concessions stands will sell alcohol, with additional kiosks set up to meet demand. According to the Levy rep, the concessionaire will likely pursue the opportunity to "hawk" beer in stadium aisles should football sales follow in the future.
Meanwhile, future SEC member Texas has announced a partnership with Austin-based Tito's Vodka in which the company and its UT alum founder Bert Beveridge pledge to infuse $20 million directly into the athletic department toward facilities upgrades. So far, Texas has upgraded its football stadium, added new baseball and softball indoor practice areas and is in the process of finishing the Moody Center, the Longhorns' multipurpose arena.
The university issued the following statement, as reported by USA Today's Longhorns Wire:
"The impact of this $20 million investment reaches across multiple sports by assisting with the construction of new practice facilities for men's and women's basketball, rowing, and football. These new facilities will elevate the experience of UT student-athletes, providing them with world-class training environments necessary to achieve at the highest level. Tito's investment also allows Texas Athletics to remain highly competitive in the recruitment of elite student-athletes, coaches, and staff."