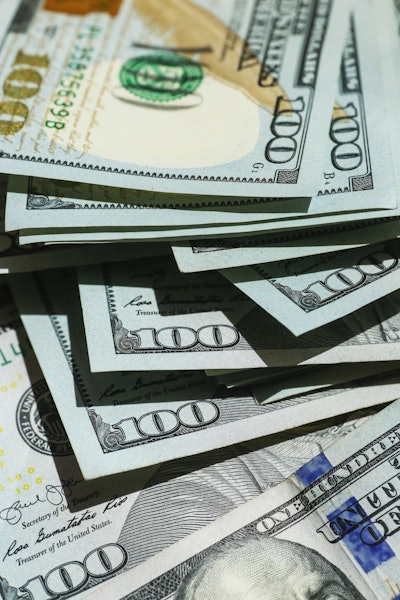 On Friday, Stewart Mandel of The Athletic reported a 2023 college football recruit has signed an NIL deal worth upwards of $8 million by the end of his junior year in college.
The unnamed five-star football recruit will be paid $350,000 almost immediately, followed by monthly payouts escalating to more than $2 million per year once he begins his college career, in exchange for making public appearances and taking part in social media promotions and other NIL activities "on behalf of (the collective) or a third party," according to Mandel.
Blake Lawrence, the founder of the NIL marketing platform Opendorse, told Mandel that a deal that high seems like an outlier, but added, "Whatever casual sports fans or coaches think student-athletes are earning from collectives, they're [undershooting] by 10X. While $2 million [a year] is wild, $200,000 isn't, but most people are thinking they're getting $20,000."
Mandel tweeted, "Here's how a donor group 'buys' a recruit for the next 4 years without putting it in writing."
As reported by The Spun by Sports Illustrated, but not everyone is applauding what is believed to be the largest NIL deal signed by a non-professional athlete thus far. Replies to Mandel's tweet are full of people objecting to NIL as well as some people defending it:
"The amount of outrage over rich people redistributing their wealth to poor people is laughable," said one individual responding to the news. "Who cares if donors pay players to come to a school. Who is it harming? The economics of it will work itself out in the long run. And if it doesn't, still no harm."
Said another, "Anyone with half a brain who thought it through knew NIL would be used to over-the-table entice recruits. The idea this would give athletes a little spending money for sending out a few tweets was always laughable."
Not everyone was laughing. "So it's a bribe — pay for play. Plain and simple," replied a third.
And on it goes. "So then, it's like buying free agents out of high school," said another responder. "NIL worst nightmare."
But that was countered by, "Good for him. Now the schools should have a finical advisor sit down with them immediately so they can set themselves up for the future."
As well as, "I love it. I hope the players get every penny they can make.The schools need to start paying them directly too.For all the people that argued against players making money here you go. It's your fault and this is what happens when you hold something back. It's like a coiled spring."
As of Tuesday morning, Mandel's tweet had garnered 162 responses, 723 retweets and nearly 1,000 likes.