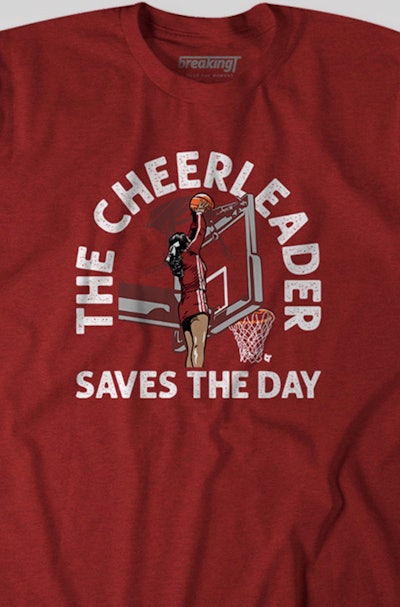 One of the most shared moments from the 2022 NCAA men's basketball tournament so far didn't involve defensive play or a poster dunk, but rather the act of two Indiana University cheerleaders who teamed up to retrieve a ball stuck behind the backboard.
After several unsuccessful attempts to dislodge the ball, including St. Mary's players armed with a court mop standing a chair positioned under the goal, Cassidy Cerny stood on the upwardly stretched palms of stunt partner Nathan Paris and with her own two hands plucked the ball from its perch underneath the shot clock. The crowd at Portland's Moda Center gave them a standing ovation during the second-half pause of the first-round game between the two schools.
Now, as reported by Sports Illustrated, a T-shirt has been designed to commemorate the moment Cerny elevated above the backboard to retrieve the ball, with the shirt caption reading "The cheerleader saves the day," just one phrase from an epic call of CBS Sports' Andrew Catalon. It's part of Cerny's new name, image and likeness deal with sports apparel company Breaking T.
Log in to view the full article