Apparel company Adidas on Wednesday announced a sweeping NIL deal with more than 50,000 student-athletes across 23 sports and 109 D-I schools.
Launching in four phases over the next 12 months, the network will begin with Historically Black Colleges and Universities and Power-5 conference partners in Fall 2022, scaling across all schools by April 2023.
WNBA star and Adidas partner called the new NIL network an incredible step forward for the growth of women's sports.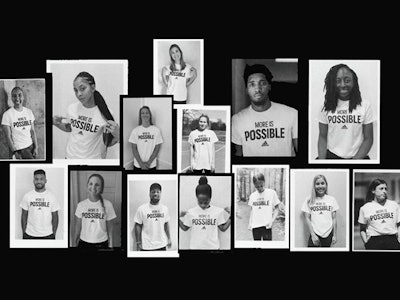 "It will have an impact on the future of college athletics and hopefully create a more equal, sustainable landscape where athletes feel supported and invested in as they grow in their college careers," Parker said in a press release. "It builds upon adidas' and my shared ambition to empower the next generation of women in life and sport."
Signs of the new deal will be on display during future March Madness games.
At both women's and men's Sweet 16, Elite 8, Final Four and National Championship games, fans will see 'More Is Possible' t-shirts worn by adidas teams during warm-ups. Featuring language from Title IX legislation, the company says the shirts will serve as a reminder to push the boundaries of possibility.
"The adidas NIL network embodies our belief that sport has the power to change lives by upskilling athletes and giving them the ability to begin to experience an entrepreneurial path that will carry them beyond their college years," said Jim Murphy, adidas NCAA program lead. "This is not just a first-of-its kind program for the brand and industry, it goes much wider by unlocking opportunities in business and life that will enable them as student-athletes to maximize their NIL, opening the doors to future possibilities."