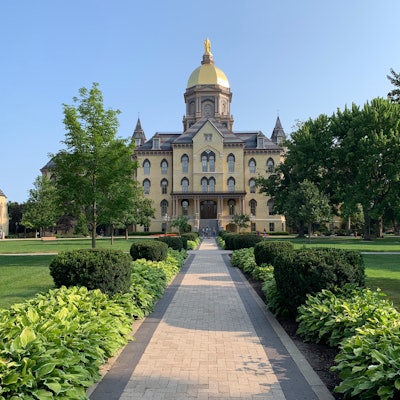 To commemorate the 50th anniversary of women being admitted to the University of Notre Dame, the school is altering its famous "Notre Dame Victory March" fight song to include a reference to "daughters."
Written by Rev. Michael Shea and his brother John in 1908, the Notre Dame Victory March includes the lines:
Cheer, cheer for old Notre Dame.
Wake up the echoes cheering her name.
Send a volley cheer on high.
Shake down the thunder from the sky.
What though the odds be great or small,
Old Notre Dame will win over all.
While her loyal sons are marching
Onward to victory.
Going forward, "Notre Dame Victory March" will be sung as follows:
While her loyal sons and daughters
March on to victory.
In addition to the lyric change, Notre Dame will also re-imagine its Main Circle on campus to celebrate the anniversary, according to 247sports. The announcements were first made at a gala event on campus Thursday celebrating the half-century milestone.
"The success Notre Dame enjoys has been shaped by the extraordinary leadership and contributions of the women who have been and are a part of the Notre Dame community — beginning with the four Holy Cross sisters who arrived in the Indiana wilderness in 1843, to those who lead, teach, learn, minister and work here today," Notre Dame president Rev. John Jenkins said in a statement. "On this occasion of the anniversary of the admission of undergraduate women in 1972, we celebrate the invaluable contributions of women as students and graduates. The re-imaging of the Main Circle will be a tribute at the heart of our campus to the ways in which these women have inspired, led and enriched us."
The song, ranked No. 1 in College Fight Songs: An Annotated Anthology, has  been borrowed by many American high school teams, a handful of Canadian schools and the Australian Football League team Sydney Swans, according to Notre Dame News.
"It's probably the most recognized and performed of collegiate songs," Kenneth Dye, director of bands and professor of music at Notre Dame, said. "Its inspirational rhythm and tempo create an energy that encourages fans to clap along and enjoy the music."
Reaction was generally positive, with several people saying the "love" the change and that it was long overdue. Some even claim to have been singing the song that way for decades, and are happy it's now official.
Others feel it's a token gesture with little real meaning in today's society
.