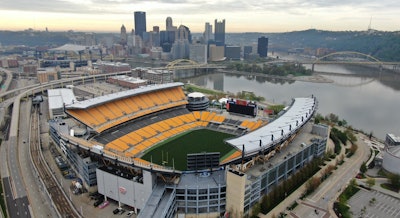 By Fo2grfr - Own work, CC BY-SA 4.0, https://commons.wikimedia.org/w/index.php?curid=94018242
The Pittsburgh Steelers' Heinz Field will be getting a new name as The H.J. Heinz Company, which has owned the naming rights to the stadium since 2001, declined to renew its agreement.
The news was reported by 93.7 The Fan's Andrew Fillipponi via Twitter.
As recent as February team president Art Rooney II had expressed optimism that the ketchup maker would retain naming rights to the stadium.
"It's something we're having some conversation with Heinz obviously about," Rooney said at the time. "I think we'll know the answer to that soon. But I'm optimistic about keeping the name as is."
Filloppini reported that the new name for the stadium could be announced as early as this week.
Heinz paid $57 million for the original 20-year agreement.