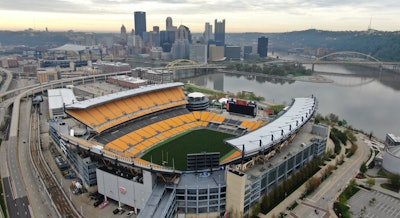 The Pittsburgh Steelers' stadium will now be called Acrisure Stadium after the team and the global insurance broker announced a 15-year naming rights deal for the facility, which was formerly known as Heinz Field.
"We are excited to partner with Acrisure for the naming rights to our stadium," Steelers president Art Rooney II said. "Acrisure provided us with an opportunity to ensure our stadium continues to be a valuable asset for our fans as well as keeping up with the market value of NFL stadiums."
Acrisure also has the naming rights for an indoor arena being constructed in Palm Springs, California.
Heinz signed a 20-year deal for the naming rights to the stadium back in 2001 for $57 million but declined to renew the partnership.
Kraft and Heinz merged to form Kraft Heinze Company in 2015, and the two are co-headquartered in Chicago and Pittsburgh.
Acrisure is a Michigan-based insurance brokerage that has seen revenue grow to more than $3.8 billion in just over eight years, according to ESPN.