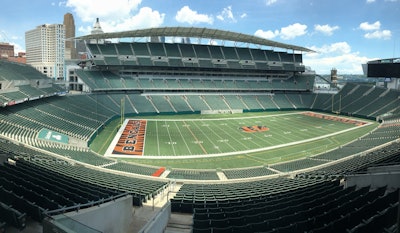 By JonRidinger - Own work, CC BY-SA 4.0, https://commons.wikimedia.org/w/index.php?curid=60743002
The Cincinnati Bengals on Tuesday announced a new naming rights partnership for Paul Brown Stadium. According to the team's website, the home of the Cincinnati Bengals will be renamed Paycor Stadium.
Paycor, a human capital management (HCM) company, has served as the team's official and exclusive HR software provider since 2018. Paycor has been headquartered in Cincinnati for over 30 years and recently celebrated one year as a public company following a July 2021 IPO.
"Through a strategic partnership with our hometown team, the Cincinnati Bengals, we are beyond thrilled to introduce Paycor Stadium to the world," said Raul Villar Jr., CEO of Paycor. "As Paycor continues to grow and reach customers throughout the U.S., our mission of empowering leaders to build winning teams perfectly aligns with the defending AFC Champions. As longtime fans, this is a big point of employee pride and we are honored to support our local team and build on the legacy of Paul Brown."
Log in to view the full article