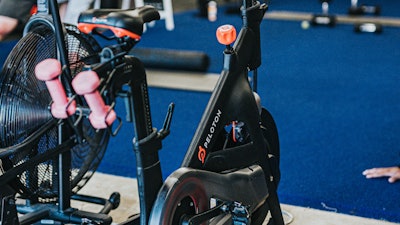 Peloton Interactive Inc. today announced the Peloton bike, guide and select accessories and apparel are now available for purchase on Amazon.
Prior to today, Peloton's new products and accessories were sold, exclusively, through the brand's e-commerce site, inside sales channels and global showrooms. According to a press release, the collaboration allows Peloton to expand its distribution.
"Expanding our distribution channels through Amazon is a natural extension of our business and an organic way to increase access to our brand," said Peloton Chief Commercial Officer, Kevin Cornils. "We want to meet consumers where they are, and they are shopping on Amazon. Providing additional opportunities to expose people to Peloton is a clear next step, as we continue to generate excitement for our unparalleled connected fitness experience."
The Peloton Bike will be available through Amazon with in-home delivery, and customers have the option to assemble the bikes themselves or select an add-on expert assembly option available in the majority of the US. The in-home delivery and assembly are offered at no additional cost to customers.
"We are thrilled to have Peloton products available for our customers in Amazon stores," said Jim Adkins, Vice President of Recreational and Vocational categories at Amazon. "Peloton is all about bringing their community and energizing fitness routines into the home. With Amazon's convenient shopping experience, we hope to further that mission by providing customers with high quality, innovative products to take their health and fitness to the next level."
Pelton's stock rallied 18 percent in early trading on news of the agreement with Amazon. Peloton's share price is down about 70 percent year to date, as of Tuesday's market close. Its market cap has fallen to around $3.7 billion, from as high as $50 billion in early 2021.
"Post-Covid, the retail environment — online and in stores — is continuing to evolve, and that's something that we're trying to understand better to make sure the Peloton of the future is calibrated appropriately for that," Cornils said in a phone interview with CNBC.
"We want to make it as easy as possible to get a Peloton," he added.