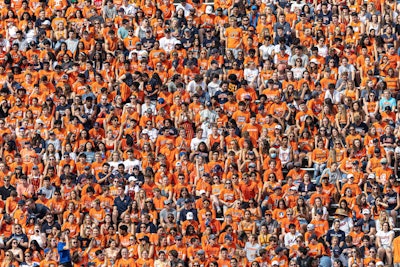 The University of Illinois has launched its new Brand Ambassador Program, which will pair students from the school's College of Media with individual student-athletes.
"There is no question that many Illini student-athletes are among the most high-profile brands in the State of Illinois," said Dr. Mike Yao, professor of Digital Media and the head of the Charles H. Sandage Department of Advertising in the College of Media. "We could not be more excited for our outstanding students to grow alongside student-athletes and local businesses with whom they share the Illinois experience. Today's personal branding opportunities are limitless, and I look forward to seeing the results."
The brand ambassador program requires a rigorous application process and provides students with a passion for brand marketing and social media with hands-on training to become effective, creative, and positive brand managers. Fighting Illini student-athletes along with Visit Champaign County, the City of Urbana, the Champaign Community Economic Development Corporation and other organizations will be paired with individual brand ambassadors in order to establish and better develop their personal brand strategies.
NCAA Women's Gymnastics Championships individual qualifier Mia Takekawa is one student-athlete who will benefit from this new initiative.
"It's amazing to consider that I will have a personal social media expert," Takekawa said. "I'm always wondering how to increase my online presence, and I'm excited to see how this helps elevate my profile to get more NIL deals."
The Brand Ambassador Program operates in parallel with the INFLUENCE Program, the Division of Intercollegiate Athletics educational approach to NIL, which emphasizes brand and strategy development along with business and financial concepts.
"The University of Illinois has some of the finest advertising students in the nation, and I am delighted that our student-athletes will get the benefit of this new program," said Josh Whitman, director of athletics. "I am grateful to the College of Media, Dr. Yao and the many others who worked to include our student-athletes in this new endeavor."
The program will begin at the start of the Fall 2022 semester.