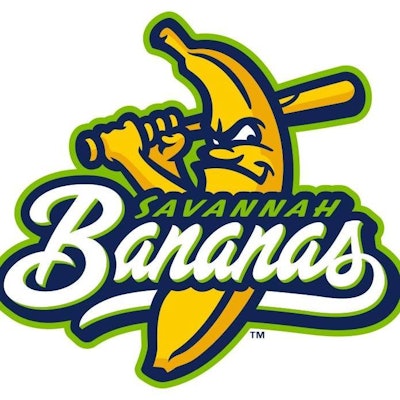 The Savannah Bananas, who became a national sensation with their showy and circus-like style of baseball, are leaving the Coastal Plain League to focus on their professional team, the team announced.
Team owner Jesse Cole made the announcement in a YouTube video, saying "we'll be able to bring the Savannah Bananas to more people in Savannah and around the world."
The Bananas joined the summer league for college players in 2016, playing in Grayson Stadium after the city's longtime minor league team left. The amateur team was an immediate sensation, on and off the field. With showy stunts and entertainment that drew attention from national media and a team that won three CPL titles, including the last two, the Bananas have sold out every home game since their founding.
In a news release, the team said that starting in 2023, the Bananas will play every game with the rules of Banana Ball. Rules that include a two-hour time limit, no stepping out, no bunting, no walks, and foul balls caught by fans are outs.
The 2022 season will be the last season in the Coastal Plain League. The Bananas were members of the league since the team's inception in 2016, and have won three Petitt Cup Championships, including back-to-back titles in 2021 and 2022.
The shift to a year-round Banana Ball schedule gives the team the opportunity to schedule more games both in Savannah and all over the country, in order to accommodate more Bananas fans. With 80,000 fans on the Banana Ball waiting list for tickets, this gives the Bananas freedom to create a schedule to take care of as many fans as possible.
The Bananas roster will now be made up of all professional players including former Bananas and MLB stars. They will play their rival the Party Animals as well as other professional teams, both in Savannah and all over the country.
"Since we arrived in Savannah in 2016, we've been relentlessly focused on creating a better fan experience and have been watching and listening to our fans every step of the way," said Bananas Owner Jesse Cole. "We believe this is the most fans first decision we've ever made as a company. For the past seven seasons, even with sold out crowds and non-stop promotions and entertainment, we watched as fans still left our games early. With Banana Ball, we saw that 98% of the fans stayed until the end of the game. This was groundbreaking for the game of baseball. But most importantly, we heard from the players and thousands of fans that this was the most fun they had playing and watching baseball."
Cole is also scheduled to be the keynote speaker on Nov. 18. You can register for Ab Show Expo and Conference 2022 in Orlando here.