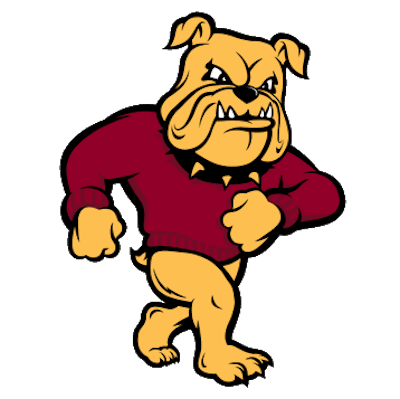 After feedback from alumni and students, the University of Minnesota-Duluth decided to scrap its new "Champ the Bulldog" mascot before announcing plans for a new costume committee.
The update came in an online announcement from the school Tuesday, as reported by CBS 3 in Duluth.
Last Thursday, UMD debuted an updated look for its Champ mascot, featuring a gold costume that the university said better reflected current Champ logos around campus. The Bulldogs' school colors are maroon and gold.
One student even started a petition to change the mascot back to its previous look, which depicted Champ with gray fur. The petition garnered hundreds of signatures.
"We have heard from our students, alumni, fans and supporters over the last few days and appreciate all of the passion for and loyalty to Champ. The previous UMD Champ mascot will return for the current school year," school leaders wrote.
The process to update Champ began last year.
Moving forward, the UMD athletic department plans to work with University Marketing and Public Relations and a committee to gather input and examine several concepts for the Champ costume.
"This committee will be tasked with helping select a new Champ that honors the rich history and tradition of the Champ mascot, considers modern enhancements like cooling features for the safety of the performer, and aligns with our maroon and gold brand," the leaders wrote, as reported by CBS 3. "In addition to the committee, there will be opportunities for members of the campus and community to participate in the selection process."