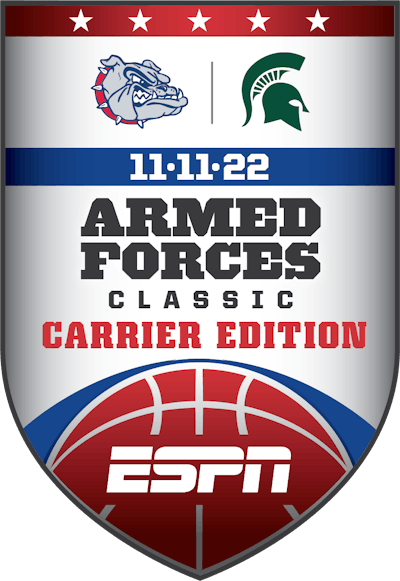 Michigan State University and Gonzaga University, in conjunction with the Collegiate Licensing Company, are partnering to deliver military-inspired merchandise to engage fans as the schools' basketball teams prepare to compete on the deck of a Navy aircraft carrier.
The Armed Forces Classic by ESPN takes place today, Veteran's Day, on the USS Abraham Lincoln in the San Diego harbor. According to the Gonzaga athletics website, it's the first time a college basketball game has been played on the water in a decade.
This will be the fourth time in NCAA history that the deck of an aircraft carrier will host basketball. Michigan State was part of the inaugural game in 2011, also staged in San Diego but aboard the USS Carl Vinson.
With limited space and tickets for in-person game viewing, fans can support their teams through a special merchandise collection that will combine unique camo designs with school logos. The merchandise collection includes top licensees '47 Brand, Blue 84, Nike/BCS and ProSphere.
Gonzaga and Michigan State will each donate a portion of royalties from the sale of the merchandise to veterans service organizations in their respective local communities. Michigan State and Gonzaga military-inspired merchandise supporting the game is available at each institution's retail partners.
In addition to the merchandise collection, both universities will be gifting a limited number of "Hero Boxes," which include university branded Operation Hat Trick (OHT) merchandise, to social media participants.