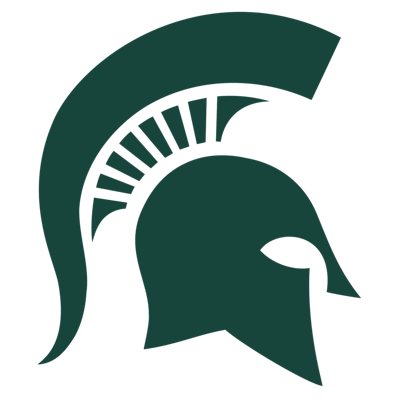 Michigan State University held its inaugural EverGreen NIL Celebration on Monday night, marking what it thinks is the first event hosted by a Power 5 school to recognize and celebrate the name, image and likeness achievements of its student-athletes.
"We are proud of how our student-athletes have leaned-in to NIL opportunities," Michigan State athletic director Alan Haller, as he welcomed guests to the Tom Izzo Basketball Hall of History inside the Breslin Student Events Center. "Michigan State has quickly become a leader in the NIL space and we will continue to grow together."
According to a release on the Michigan State athletics website, the idea for Monday night's celebration stemmed from the inaugural NIL Summit hosted in Atlanta in June, which several Michigan State student-athletes and athletics administrators attended.
"After attending the NIL Summit in Atlanta this past summer, our EverGreen NIL committee members who were in attendance were determined to bring this celebratory NIL concept to our campus on a micro level," executive associate athletic director for championship resources Ashton Henderson said.
Spartan student-athletes, coaches and staff gathered for an evening of networking with representatives from businesses at the local and national level. According to the university, leaders from Anomaly Sports Group, INFLCR, Meta and Team Altemus sat down with Spartan football director of player relations and program advancement Darien Harris for what's being characterized as "a fireside chat."
"The unique part of Michigan State is that we are always forward thinking," Harris said. "I remember having a conversation with Alan Haller in 2019 after finishing my graduate assistantship here. He asked me what a college athletics landscape would look like if (NIL legislation was passed) and he was all for it. In 2020, we had conversations with Anomaly Sports Group about what our education platform would look like if NIL legislation was passed. That goes to show that Michigan State has always tried to be ahead of the game and stay out front, and I believe we've been able to do that."
MSU athletics is ranked in the top three among Power 5 schools that have businesses logged into the INFLCR Exchange program. Spartan athletics ranks in the top five among Power 5 programs in reported transactions thanks to the Michigan State Exchange.
When it comes to the word education, and in talking to certain schools, I realized who was just going to manage NIL and who was going to be a champion in the space," Bruce Wimbish, Vice President of Anomaly Sports Group, said. "Michigan State from the onset has been a champion in the space because they understood that they wanted to be innovative, they wanted to provide education, but most importantly they didn't want to give student-athletes partial education. Michigan State wanted to make sure student-athletes understood contracts, taxes and how to vet advisors."
The night culminated with two Spartan athletics programs and three individual student-athletes being recognized for their NIL achievements.
The women's gymnastics team and head coach Mike Rowe were presented with the Giving Back Green award, given to the Spartan whose efforts have raised money and overall awareness to give back to their community, for their collaboration with Charitable Gifts of America.
Earning the EverGreen Efficiency award for their work with MSUFCU was women's basketball and head coach Suzy Merchant. The EverGreen Efficiency award is given to the Spartan who has best utilized the EverGreen program to use the marketplace, log transactions and continue with best practices.
Men's basketball's Malik Hall was awarded the Spartan Success award, presented to a Spartan who has seen immense success in their NIL endeavors.
The EverGreen Innovation award was presented to football's Maliq Carr for his partnership with the WWE Next In Line program. Carr best exemplified creativity through innovative use of Name, Image and Likeness to generate value for himself and his partners.
Wrestling's Chase Saldate earned the final award of the evening, taking home the EverGreen Ambassador award, presented to the Spartan who best represented and promoted use of the EverGreen program.