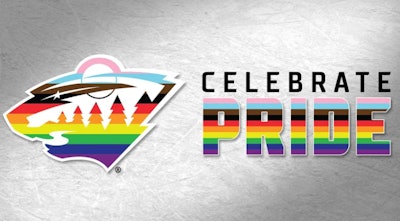 The NHL has made a big deal of pushing its "Hockey is for Everyone" inclusion campaign, but teams in the league don't seem to be very interested in participating in the initiative to support the LGBTQIA+ community.
In celebration of Pride Night, the Minnesota Wild were for the second time set to wear and later auction off Pride-themed warmup jerseys. However, when the team took the ice against the Calgary Flames the team didn't follow through with the event.
The organization reportedly opted against wearing the jerseys last minute.
While some players did use pride-themed tape and pucks in warmups, the jerseys were abandoned entirely, leaving some to wonder whether the NHL's "Hockey is for Everyone" campaign is nothing more than hot air.
The pride-themed jerseys have been a point of contention for some since the league launched the initiative. Philadelphia Flyers defenseman Ivan Provorov sat out warmups and refused to wear the Flyers Pride-themed jersey back in January. Multiple teams followed suit and refused to wear the warmup jerseys, including the New York Rangers and the New York Islanders.
In Minnesota's case, the auction, in combination with any mention of the jerseys, were quietly scrubbed from the team's website prior to the start of the game, and the team has not since commented on the matter aside from a reiterating support for the LGBTQIA+ community.
"The Minnesota Wild organization is proud to continue our support for the LGBTQIA+ community by hosting our second annual pride night tonight which we are celebrating in many ways," the release reads. "It is important to host nights like this to show all players, fans, and the LGBTQIA+ community that hockey is for everyone."