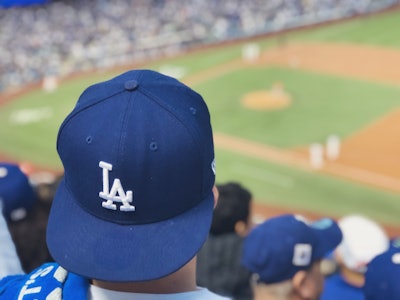 A number of LGBTQ+ groups in Los Angeles have withdrawn from participating in the Los Angeles Dodgers' 10th annual Pride Night.
The groups have bowed out in solidarity with the Sisters of Perpetual Indulgence, an LGBTQ+ charity and protest group, which the Dodgers disinvited on Monday.
The Los Angeles LGBT Center and the ACLU of Souther California both announced Thursday that they will not participate in the event unless the Dodgers re-invite the Sisters of Perpetual Indulgence.
The Sisters have were formed in 1979 and are a staunch advocate for the disenfranchised, raising money for those groups and fighting for self-expression. There were also very active during the first years of the AIDS epidemic.
Yahoo Sports reported that the Dodgers rescinded their invite to the Sister after receiving letters from Florida Sen. Marco Rubio and the Catholic League. While the Dodgers did not mention the letters in their announcement, they said noted "people who have been offended by the sisters' inclusion in our evening."
Below is a part of the Sisters' statement in response:
We, the Los Angeles Sisters of Perpetual Indulgence, were recently awarded a Community Hero Award by the Los Angeles Dodgers for our twenty-seven years of service to the LGBTQIA Community. Today, we are sad to learn the Los Angeles Dodgers have chosen to rescind their award, succumbing to pressure from persons outside of the State of California and outside of our community. We are disappointed they have chosen to un-ally themselves with us in our ongoing service to the public, many of whom enjoy the Dodgers's heroic efforts in sports.

Some errant information presented by persons unfamiliar with our work needs clarification: We are a charity organization and we are human rights activists. Our mission is to uplift our community and all marginalized groups, especially the ones ignored by larger organizations, spiritually oriented or otherwise. We are queer nuns serving our people just as nuns of other cultures serve theirs. We are not solely male; our membership includes all genders, religions, and romantic affiliations. Though we both serve the transgender community and have transgender members, we are not an exclusively trans organization. We unequivocally support the rights of transgender people.

We are both silly and serious. We use our flamboyance in service to our charity work and our message, which is, "There is room in our world for each person to be who they are, as they are, free from shame or guilt, and alive in joy and love for their own self." [...]

Our work speaks for us. We do not serve to receive awards or accolades. We are grateful and proud when other organizations choose to acknowledge our service, yet our own focus remains on the work of removing suffering and promulgating joy. While we may no longer appear on Dodgers Pride Night, we will be out on the streets of Los Angeles continuing to serve and uplift our community. If being true to oneself with love, joy and pride is a sin, then we, having been cancelled by the New York Post, and now the Dodgers, will do what we always do. We will go out and sin some more.

May grace cover all your bases. May you shine like a diamond.