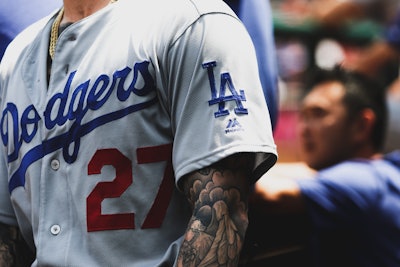 The Los Angeles Dodgers on Monday issued a public apology to the Sisters of Perpetual Indulgence, the LGBTQIA+ advocacy group that the team had previously uninvited from the participating in Pride Night at Dodger Stadium.
"We have asked the Sisters of Perpetual Indulgence to take their place on the field at our 10th annual LGBTQ+ Pride Night on June 16th," a team statement said. "We are pleased to share that they have agreed to receive the gratitude of our collective communities for the lifesaving work that they have done tirelessly for decades."
Not only has the team invited the Sisters back, they'll also receive the Community Hero Award in a ceremony before the Dodgers' home game against the Giants.
The sisters are a group of primarily men founded in San Francisco in 1979. They were active in helping the gay community during the AIDS crisis.
Last Wednesday the Dodgers announced that they would be rescinding an invitation for the Sisters to participate in the Pride Night after Sen. Marco Rubio of Florida and some Catholics wrote letters to the Dodgers objecting to their inclusion in the event.
The Sisters have denied they are anti-Catholic, saying on their website that they use "humor and irreverent wit to expose the forces of bigotry, complacency and guilt that chain the human spirit."
The Dodgers decision to disinvite the Sisters sparked a backlash, with a number of LGBTSIA+ groups pulling their support for the team's Pride Night event.
On Saturday, Anaheim mayor Ashleigh Aitken tweeted an invitation for the Sisters to join her for the Los Angeles Angels' Pride Night on June 7.