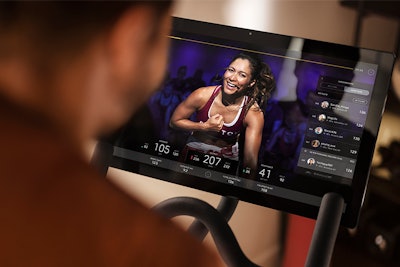 Peloton this week announced changes to its app that include tiered memberships for its content that will allow users to leverage the company's workouts at home, outdoors and in the gym.
The announcement involves a complete rebrand for the company and introduces new membership tiers, and a new content feature called Peloton Gym.
"With this brand relaunch we're reflecting the vibrancy and fullness of everything Peloton has to offer to everyone. We're shifting perceptions from in-home to everywhere, fitness enthusiasts to people at all levels, exclusivity to inclusivity across all Peloton Members present and future," said Leslie Berland, Peloton's chief marketing officer in a press release. "Our Instructors and Members live and breathe the true Peloton experience every day. We're excited to bring that energy and inspiration out into the world."
According to company research more than half of all workouts were not cycling related, and Peloton currently offers 16 fitness modalities from Yoga and Meditation to Walking and Strength. To broaden access to its content for all, the Peloton App will offer, for the first time, the most expansive collection of free classes since it first launched in June 2018.
Peloton will now offer five distinct membership tiers, inclusive of today's three newly launched App Membership Tiers, as well as the existing All Access Membership (for hardware owners) and Guide Membership (for Guide owners). The new app tiers allow beginners and enthusiasts alike to work out with or without equipment – at home, outdoors or at their gym – independently or with instruction. In addition, for the first time, Peloton Row content will be available on the app. Across all app tiers, Peloton members will have access to expert instruction; the ability to track workouts with the Just Work Out feature; and the fitness industry's leading music library. The new App tiers allow users to personalize their Peloton experience to suit their daily fitness needs – which, for many, vary on a daily basis:
Peloton App Free - Designed to supplement a user's current workout routine or as a taste-test of all Peloton has to offer for a newbie. This tier currently provides more than 50 classes curated across 12 of Peloton's modalities to enable the user to pair workouts to meet their individual interests, even as those goals change over time. It will also include a rotating set of featured classes that will be refreshed on an ongoing basis. (Free. Zippo. Zilch. Nothing.)
Peloton App One - Designed for the member who wants unlimited access to thousands of classes across 9 of Peloton's 16 modalities, including Strength, Meditation, Outdoor Walking, Yoga, and more as well as all the classes included in the free tier. App One Members can also take up to three equipment-based cardio classes per month (Cycling/Tread/Row). New on-demand and live classes will be offered almost daily as well as access to Peloton's Challenges, Programs, and Collections. ($12.99 per month, $129 per year)
Peloton App+ - Designed for the user who wants frictionless, unlimited access to Peloton's vast library (not including Lanebreak or Scenic classes). This tier includes all of App One's offerings and unlocks access to thousands of equipment-based cardio classes to take on any indoor bike, treadmill, or rower. This tier also offers exclusive access to classes, featuring the latest specialty content. ($24 per month, $240 per year)
With the launch of Peloton Gym, available across all membership tiers, Peloton gives Members what they need to meet their strength goals anywhere they want to work out. This marks the brand's first offering in which workouts are written-out, demoed in a supporting video, and designed to be done at the user's own pace. With this new content feature, Peloton Instructors offer Members a series of floor-based routines, allowing them to time their workout and choose between different strength class types so they can personalize for their specific needs at any time. Much like all app features, Peloton Gym will leverage unparalleled Instructor expertise and Member feedback to develop and add functionality to enrich the Strength modality experience over time.