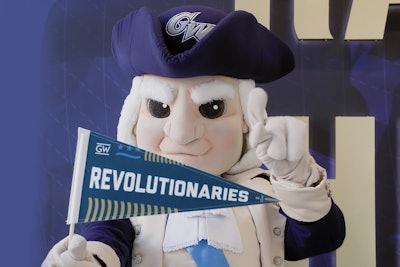 Courtesy of GWU Communications
George Washington University announced last week that the school has chosen its new nickname after a months-long process of consideration and gathering feedback including focus groups and surveys.
The former Colonials will now be known as the Revolutionaries, GWU announced Wednesday after 12 months, 47,000 points of feedback and 8,000 moniker suggestions whittled down in a community engagement process.
In late March, the university had said it narrowed the nickname contenders down to four options: "Ambassadors," "Blue Fog," "Sentinels" and "Revolutionaries."
Related: George Washington U. to Drop Controversial Nickname, Considering Replacements
The new name has also been approved by the Board of Trustees, GWU said. George Washington will remain the university's mascot.
President Mark S. Wrighton said in a statement that the Revolutionaries nickname "reflects our community — and our distinguished and distinguishable GW spirit."
The university had announced in June 2022 that it would be retiring the Colonials moniker. The name was criticized because colonialism is the overtaking of a country by citizens of another, often leading to the persecution and marginalization of the original residents.
"Meet the Press" moderator and George Washington alumnus Chuck Todd was in a video posted to the university Twitter account to share the new name.
According to the university's student-led newspaper, The Hatchet, calls for the change of the moniker began in 2018 when students launched a petition urging university officials to change the "extremely offensive" name that ended with nearly 550 signatures. In 2019, the student body held a referendum where around 54 percent of students voted in favor of changing the name, according to the newspaper.
The full adoption of the Revolutionaries moniker will be implemented during the 2023-24 academic year, the university said. Over the coming weeks and months, GW will develop the visual identity for the Revolutionaries moniker and begin the process of bringing it to life on athletic uniforms, campus signage and merchandise.