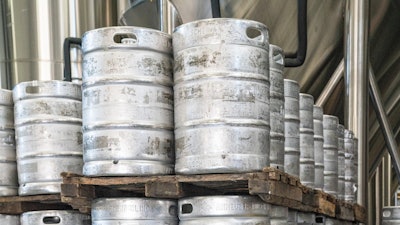 Unsplash
The Michigan State University Board of Trustees held a special meeting Wednesday to adjust university policies regulating the sale of alcohol in certain venues on campus.
According to a report at MSU Today, trustees voted unanimously to approve amendments to the university's alcoholic beverage ordinances and discussed efforts to address binge drinking at athletics events.
"The actions we are taking today create a better fan experience for Spartans and those visiting our athletic venues," said board chair Rema Vassar. "Amending our alcoholic beverage ordinance to limit alcohol-related incidents creates a more welcoming and enjoyable atmosphere for everyone."
Recent data from peer institutions show regulating the purchase of alcohol during athletic events reduces binge drinking and alcohol-related incidents, making it unnecessary for fans to over-consume alcohol knowing they will have access to regulated sales in the venue, MSU Today reported, citing first-year decreases of 30 percent or more in terms of alcohol-related incidents at Big Ten Conference peer institutions Ohio State, Indiana and Iowa.
"Just because alcohol is sold at the events, that doesn't necessarily mean an increase in incidents," Dana Whyte, spokesperson for the MSU Department of Police and Public Safety said, as reported by Lansing television station WILX. "We do believe that this will be a positive thing for the university and for our Spartan community."
In changing its policies, Michigan State becomes the (currently) 14-member Big Ten's 13th university to sell or announce plans to sell alcohol to the general public in athletic venues and the 10th to offer alcohol throughout its football stadium.
"This decision improves the game day experience for members of our community as they come together to support our university," said Alan Haller, MSU vice president and director of intercollegiate athletics. "Providing the opportunity for fans to safely and responsibly consume alcohol at Spartan Stadium and some of our other venues offers them the same amenities they enjoy when supporting Spartans on the road at many of our Big Ten peer institutions."
Haller said alcohol sales revenue "will go directly back into the stadium for enhancements and upgrades," according to WILX.
The updated ordinance follows Gov. Gretchen Whitmer's signature on bipartisan legislation allowing alcohol to be sold at collegiate athletic competitions.
Sales are expected to begin when MSU hosts Washington at Spartan Stadium on Sept. 16, pending approved licensing from the state, procurement of equipment and appropriate staff training. Additional campus venues accommodating alcohol sales potentially include the Breslin Student Events Center, Munn Ice Arena and Old College Field.
"The way the legislature wrote the law, is that we could have up to five locations on campus," said MSU spokesperson Emily Guerrant said, as reported by WILX. "So five venues. Spartan Stadium is a venue, the Breslin Center is a venue, Munn Ice Arena is a venue, and then Old College Field — which supports multiple sports — is a venue."