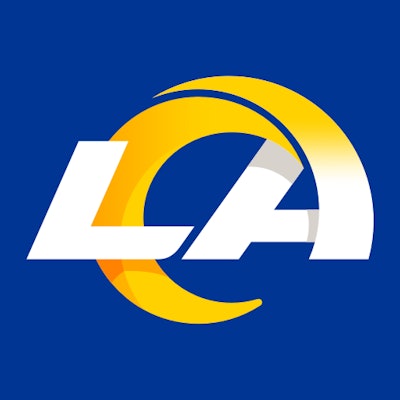 The Los Angeles Rams are using Snapchat's augmented reality technology for immersive in-stadium ads at SoFi Stadium.
According to a press release, for one minute at Rams home games, SoFi Stadium's Infinity Screen will transform into the Pacific Ocean for a Princess Cruise ad, featuring a free giveaway.
"Over the years, Snap and the LA Rams have pushed the envelope of AR in sports to bring truly innovative experiences to fans. We are proud to continue our partnership with the Rams and once again expand our capabilities for a new activation that brings to life the wonders of Princess Cruises, providing a unique experience for the fans powered by disguise technology that debuted at the Rams' season opener," said Konstantinos Papamiltiadis, vice president of Platform Partnerships for Snap Inc., in a statement.
In partnership with Princess Cruises, the AR experience virtually transforms SoFi Stadium's football field into the Pacific Ocean with three virtual Rams players catching waves on surfboards. At the end of the course, the winner emerges on a wave atop the Princess Cruise ship.
The one-minute feature plays in-game on the SoFi Stadium Infinity Screen. During the feature, fans in-stadium can enter to win a free seven-day cruise courtesy of Princess Cruises.
"As the Rams Official Cruise Vacation Partner, we're thrilled to be part of this amazing in-game augmented reality experience that virtually recreates the excitement of a Princess Cruise at SoFi Stadium," said John Padgett, president of Princess Cruises. "Princess is known for being on the cutting edge of cruise technology and this fun and engaging game takes the in-stadium experience to another level, while offering fans a chance to sail on The Love Boat."
This is Snapchat's first-ever activation powered by Disguise, a visual experience platform enabling real-time content & experiences — and with whom Snapchat has an ongoing integration. Disguise's creative & technical services division, Meptik, created the AR visuals in Lens Studio and integrated them with SoFi Stadium's Infinity Screen and in-stadium cameras.