AthleticBusiness.com has partnered with LexisNexis to bring you this content.
Copyright 2014 Gannett Company, Inc.All Rights Reserved
USA TODAY
Last July, a man in a tie and khakis shook his fists, stomped his feet and screamed at a man in a bear costume. Children stood by, confused. The bear sat there, silent.
Billy Cub, for the last seven years, has been the unofficial mascot of the Chicago Cubs. Unofficial is the key word here: John Paul Weier, the man who has played Billy Cub outside Wrigley Field, has no affiliation with the team whatsoever. He is just a guy in a bear suit with a tip jar who poses for pictures with kids. He's very good at this.
I've met Billy Cub. I once gave him a drink of water during a particularly hot August day. (He high-fived me even though I was wearing a Rick Ankiel St. Louis Cardinals jersey.) The fact he wasn't officially a member of the Cubs organization -- the fact he was just a fella in a suit -- was a large part of his charm.
This has always been a large part of Wrigley's charm. Wrigley Field is a baseball stadium that exists in a real, thriving neighborhood. It is not an antiseptic, Snyder-ized corporate zone in which you are charged $45 to use a restroom with a picture of John Riggins on it. The Cubs have been a part of the community because they've been forced to be. They don't own everything in the area, so they've fit in. Some of the people across the street want to build rooftop seats to watch the games? The bars around the corner are sometimes a little rowdy? Some guy dresses up in an unauthorized bear costume and hugs people? This is what comes with being a part of a community. The Cubs are likable because they're relatable. They live there, too.
This is changing, which is what leads us to the man in the tie and in the khakis. For years, Billy Cub has been doing his thing, and other than an unfortunate incident with a substitute Billy Cub who became belligerent over not receiving a tip, it has worked out just fine. But in uly, the Cubs -- specifically, the new ownership group led by the Ricketts family -- decided they could no longer abide Billy Cub. They sent a 100-page letter to Weier, demanding he cease and desist "engaging in unabated mascot activities." Weier ignored it. Then: The next day, he said he was confronted by a Cubs executive.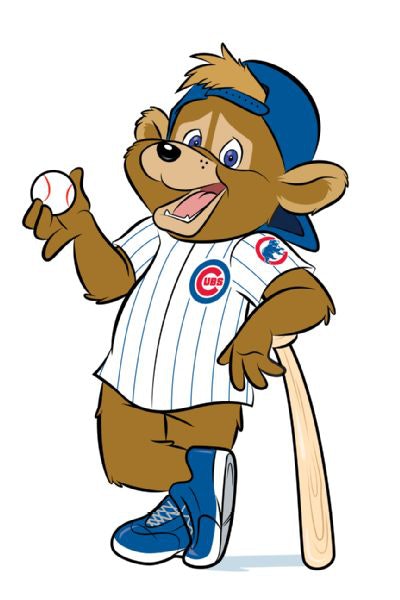 "Someone came up to me, very angry, and said, 'Did you not get our letter?'"
Problem was, Weier was in costume and in character at the time. And since Billy doesn't speak, he says he just stood there, gesturing and shrugging, as the executive in question got angrier.
Now that's an image: A middle-manager executive type red-faced and shaking in anger, screaming at a bear mascot who stares back at him, mute.
Later, when Billy Cub was able to speak, the Cubs offered him $15,000 to go away. Weier refused. He couldn't understand why the Cubs would want him gone so badly.
He does today. This week, the Cubs unveiled Clark, the first official mascot in Cubs history. The Cubs probably thought introducing Clark at the Advocate Illinois Masonic Medical Center's pediatric developmental center, helping kids with developmental challenges, would inure them to criticism. They were wrong. It's difficult to think of a more negative response to a mascot; someone could have set the costume on fire in the middle of Waveland Avenue, and I suppose they might have if they'd have caught him.
Clark's cartoon alter ego was widely criticized on Twitter. Yeah, the reaction has been mostly unanimous. SB Nation focused on Clark's haunting, dead eyes. Many compared him to the ridiculous Poochie from that legendary episode of The Simpsons, the perfect satire of focus-grouped "entertainment." Deadspin had a hilarious, deeply NSFW Photoshop contest. Every Cubs fan I talked to had that same sense of sadness and embarrassment: Why did we do this? Of particular issue was the timing. This franchise has so many problems right now, with many fans as frustrated as they have ever been, and the answer is half Joe Camel and a third Fonzarelli.
Now, obviously, this is a mascot for little kids and little kids only; the Cubs made a big show of making it clear Clark wouldn't be appearing on the field or on the dugout during games. (For now.) But this corporate perversity -- this boardroom representation of what mirth might look like -- is the logical extension of everything the Cubs have been doing in the Ricketts era.
I wrote in April about the massive changes coming to Wrigley Field, almost all of which were approved by the Chicago city council. There are massive scoreboards going up to block the views from across the street. Much of the local housing is being transformed into a team-owned hotel that's connected to the park. The Cubs aren't trying to fit into the neighborhood anymore. They're trying to own it.
The Cubs will tell you they're doing all this because they need to compete, because Wrigley Field, as currently constructed, was a competitive disadvantage. This is even more disingenuous today -- when baseball teams are floating around in vats of television money -- than it was when they made it.
If the Cubs win a World Series under the Ricketts regime, none of this will matter. But I'm not sure that's the ultimate goal; it's just the public one. Don't worry, though: Here is Clark. His eyes might be lost, but he's right here for you, terrifying your children. All it took for him to get here was a man in a tie and khakis, screaming at another, different, less managerially acceptable bear. He is the new face of the Cubs, in pretty much every way.
January 15, 2014
Copyright © 2014 LexisNexis, a division of Reed Elsevier Inc. All Rights Reserved.
Terms and Conditions
Privacy Policy