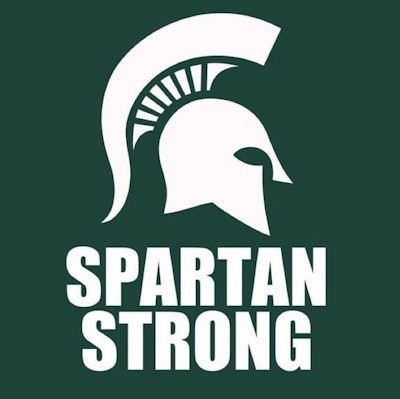 Last week's fatal shooting at Michigan State University left many on the East Lansing campus searching for positives. Athletic director Alan Haller and men's basketball coach Tom Izzo found comfort in — of all places — the University of Michigan's Crisler Arena.
AB Today reported on Michigan's plans to honor the visiting Spartans during Saturday's game between the bitter Big Ten Conference rivals, but the execution was truly moving.
Related: Michigan State Teams to Resume Play Following Campus Shooting
"I'd like to thank Michigan AD Warde Manuel and his entire department for all the love and support they provided throughout the week," Haller tweeted Sunday morning, as reported by 247Sports. "Although we're rivals in competition, you've proven that our shared humanity is ultimately greater than the colors which divide us."
Michigan's players and students wore maize-colored shirts with "Michigan Basketball Stands with MSU" across the front, and the student section held a banner the read "Spartan Strong." The Michigan pep band played the MSU alma mater, and the entire crowd participated in an extended moment of silence prior to tip-off.
The Wolverines' hospitality didn't extend to the game itself — which Michigan won, 84-72 — but the spirit of sportsmanship was not lost on Izzo afterward.
"I'd like to thank the University of Michigan for the things they did on our behalf, from our university, our students, the three deceased students, ones that are in the hospital," Izzo said, as reported by 247Sports. "I thought it was a very classy move on their part, and I appreciated that. Our players, I appreciate the effort they gave me. It was an interesting week, to say the least, trying to figure out how to deal with it, manage it, motivate, sympathize. There were a lot of key words that went into what we did.
"All in all, we played the game for two hours. We played the game to try to make many people back in East Lansing and around the world that are Michigan State alums escape for two hours and try to enjoy the moment. And I thought, for the most part, we did our part, they just did it a little better, and we did not play a very good last 2 minutes."
"I'm hoping that our university heals. I'm hoping that the way to heal is to get everybody back together, not keep everybody separated," Izzo said. "We've been separated enough for two years of COVID and Twitter and all the crap that we've gotta go through. I think getting everybody back together was good, getting my team back together was good. I do think the competition helped. A win would've helped more, because it was right there.
"[There was] 1:57 left and he hits a Hail Mary. We didn't respond from there. The final score was not indicative of the game, but they deserved to win the game because they did it fair and square. I respect that."