Despite a range of rink-accommodation issues, sled hockey's popularity is picking up speed.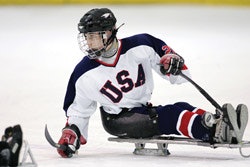 Norm Page settled into his Vancouver-area hotel room on the evening of March 1, flipped the channel to TSN, Canada's preeminent sports-only television network, and saw something he'd never thought he would. It was a prime-time, nationwide rebroadcast of a sled hockey game between the Canadian and U.S. national teams he'd witnessed in person just hours earlier at the University of British Columbia's Thunderbird Arena.
"It was awesome," says Page, who was there in his capacity as the representative for USA Hockey's national sled program. "The sport showed so well on TV - the speed, the excitement - and it ended up with overtime followed by a shootout. It was a great thing for sled hockey."
The game was the final one of a tournament hosted by the Vancouver 2010 Winter Olympics organizing committee to test the operational performance of the arena, which will host next year's Paralympic sled hockey competition.
While the television exposure certainly was a boon to the sport, it was the modifications to the rink itself that most benefited the players, the overwhelming majority of whom lack the use of their legs, if they have legs at all. Players are strapped to lightweight, custom-designed sleds with skate blades beneath them, and propel themselves by pushing off the ice with metal picks attached to the butt end of shortened hockey sticks, one in each hand.
There is only a short list of arenas in North America that have been designed or renovated with sled hockey in mind, but that number is increasing at an unprecedented rate, says Page, as a result of the relatively young sport's burgeoning popularity (much of which may be explained by USA Hockey's now year-old effort to lead a national sled hockey program).
"Sled hockey is one of the fastest-growing wheelchair sports in the country right now," says Corey Fairbanks, president of the Colorado Sled Hockey Association, which in 1995 was the first of now 11 sled hockey organizations to receive sponsorship from an NHL franchise. "Athletes are looking for something different. Wheelchair basketball has by far the largest participation, then there's wheelchair tennis, but sled hockey is on the rise."
The upward trend should continue, as specialized equipment has improved immensely and youth players now represent the majority of participants. Page notes that just a decade ago, the average age for a national team player was somewhere in the mid-30s, and now virtually all of Team USA's sled hockey players are in their late teens or early 20s.
Unfortunately, it's also a trend that has largely been ignored by rink operators, says Fairbanks. "There's only one rink in the entire country that I've heard of that offers sleds in its rental shop," he says. "A lot of people just don't want to deal with it."
Thus, the great majority of sled hockey in the United States and Canada is played on largely non-accessible rinks. Players will avoid the 8- or 9-inch thresholds at dasher-board doors by entering the rink through the ice resurfacer gates; and instead of entering the built-in bench areas or penalty boxes, players not in the game will wait in designated areas on the ice and use their sticks to deflect wayward pucks. Locker rooms are often woefully unaccommodating, too, especially considering there may be 15 players at a time with loads of equipment trying to navigate them in wheelchairs.
As in Vancouver, there are rinks that have been retrofitted to accommodate the sport, but Fairbanks notes that such equipment and facility design issues are so new, there's no established blueprint for making a rink ideal for the sled game. "There's nothing published anywhere - no guidelines for rinks to follow," says Fairbanks, who also owns the firm Adaptive Recreation Design & Consulting, based in Wheat Ridge, Colo.
A common strategy is to install dasher systems in which the yellow kick plate (threshold) is included as part of the door, allowing players to move seamlessly between the rink and the benches and penalty boxes without having to get off their sled. Thresholds within those ancillary areas - such as those employed to heighten the bench seating and subsequent viewing level for seated, able-bodied players to see over the dashers - also can be removed to maximize space. A Rochester, N.Y., rink goes so far as to have removable benches, allowing it to support both able-bodied and sled players.
Though Thunderbird Arena is the first in North America to feature ice in the bench and box areas (as opposed to the standard rubber surface that is ideal for walking with skates), numerous other facilities have found some success by either permanently or temporarily installing synthetic ice or other sheets of hard plastic.
Because sled hockey players are positioned so low to the ice, traditional dasher design creates problems related to the sightlines of both players and fans. For players, clear plexiglass can be installed in place of the traditional white puck board in front of boxes and benches. At Thunderbird Arena, dasher panels scattered throughout the perimeter of the rink were replaced with the clear plastic to allow for ice-level photography and video. Fairbanks says some manufacturers have explored the possibility of increasing the standard plexiglass-to-dasher-board ratio in order to give sled hockey fans a better view from the seating bowl, but he notes a serious drawback associated with clear materials. "A lot of players don't like it because you can lose sight of the puck in that clear glass," he says. "That's why you see the yellow base plate and the white wall - they contrast the puck."
Fairbanks and Page agree that most athletes with disabilities are too resourceful to allow something like a 9-inch lip or cramped corridors keep them from playing a sport they enjoy. "We're just happy to get kids onto the ice," says Page, "and you can do that at any rink if you really want to."
A more critical threat to the long-term popularity of sled hockey, however, is simply the lack of availability of quality ice time. "Local youth hockey organizations may be spending $500,000 to $750,000 a year on ice," Fairbanks says. "We come in and we want the same time slot - 6 p.m., for example - that they and all the adult leagues and high schools want. Most of us are part of nonprofit organizations and many of us are on fixed incomes, so $250 an hour for ice is very prohibitive. We finally found a couple rinks here that were kind enough to give us a Saturday morning slot from 9 to 11. Just having that grew our youth program by 400 percent in one year."
Though much improved from the 50-pound steel sleds with car-seatbelts for straps that could still be spotted at rinks just 10 years ago, the cost of modern, customized sled equipment likewise can be prohibitive. (It takes upwards of $1,200 to properly outfit a player with a sled and other equipment.) Fairbanks, whose organization dubs sled hockey as "the most exhilarating out-of-chair experience on earth," notes that sled equipment on the whole costs less than most quality sports wheelchairs. Plus, he says, it's totally worth it.
"First of all, sled hockey is fast-paced and it is about as close to the real game as you'll find in any wheelchair sport," says Fairbanks, who played Division I college football before a skiing accident left him paralyzed from the chest down. "Second, it's one of the few sports where I really sweat. It's the one sport where I can keep my heart rate up. Third, unlike with tennis or basketball, I get to get out of my wheelchair and play a sport. That's a huge draw. I'm getting on my sled, working my butt off and playing a really fast, hard-nosed game."
For Page, the father of a sled hockey player, the sport's relatively rapid ascendance has been rewarding both personally and professionally. "We as a family never imagined the opportunities that my son has already been given," he says. "It's great to see all these kids who have been given the chance to compete in this sport on so many levels, whether it's just recreation or all the way up to the Paralympic level."