This article originally appeared in the August 1983 issue of AB.
The 14 facilities listed below have been chosen as AP&F's 1983 Facilities of Merit.
As in past years, the basic selection criteria are not necessarily architectural achievement or aesthetics, but rather function—the ability to meet program needs, the value of a facility's utilization.
Each of these facilities represents a worthy achievement in fulfilling a given need or purpose. The difficulty in making the facility a reality must also be considered.
Other selection criteria include:
Cost-saving and energy-saving construction and operation procedures
Creative use of space
Innovative design
Each of these facility projects offers useful ideas for others planning to build or renovate. They will be featured in detail in coming issues of ATHLETIC PURCHASING AND FACILITIES.
Category I—Stadiums/arenas with major emphasis on spectator sports
BSU Pavilion
Boise State University
Boise, Idaho
Carver-Hawkeye Sports Arena
University of Iowa
Iowa City, Iowa
Category II—College recreation/Phys Ed/athletic facilities
Lilly Physical Education & Recreation Center
DePauw University
Greencastle, Indiana
George Halas Jr. Sports Center
Loyola University
Chicago, Illinois
Zornow Sports & Recreation Center
University of Rochester
Rochester, New York
Student Sports/Recreation Complex
St. Joseph's University
Philadelphia, Pennsylvania
Category III—High School recreation/Phys Ed/athletic facilities
New Albany High School Natatorium
New Albany, Indiana
Isaac Bear Athletic Complex
New Hanover High School
Wilmington, North Carolina
Category IV—Recreation/sports centers
Esso Plaza Fitness Centre
Calgary, Alberta
Kent Commons
City of Kent, Washington
New Ulm Family Recreation Center
New Ulm, Minnesota
Category V—Renovation
California Memorial Stadium
University of California
Berkeley, California
Special Award
IU Natatorium & Physical Education Building
Indiana University/Purdue University-Indiana
Major Taylor Velodrome
Lake Sullivan Sports Complex
Indianapolis, Indiana
DePauw University's Lilly Physical Education and Recreation Center met a long-standing need on campus for student recreation opportunities. The Lilly Pool is used for free-time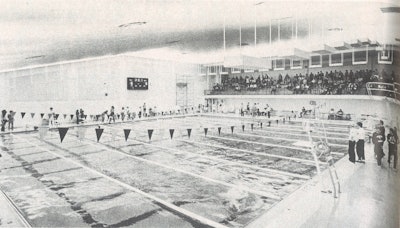 swimming, instructional classes and activities such as boating safety, in addition to competition. It is 25 meters by 25 yards, with 8 to 10 lanes for competition, plus two 1-meter and on 3-meter diving boards.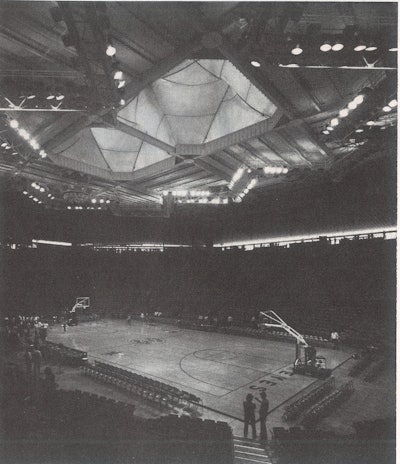 The Carver-Hawkeye Sports Arena at the University of Iowa is a mass seating facility, with 13,000 fixed seats and 2,000 movable seats. It is located in a natural ravine so that from grade level, the oval seating bowl is entered at its top. A dramatic skew-chord truss spans the facility. A 40-foot by 80-foot fabric lantern is centered on the roof of the structure to diffuse natural light down onto the playing floor.
For some time, Canada has been an innovator in corporate fitness facilities. The Esso Plaza Fitness Centre in downtown Calgary is an excellent example,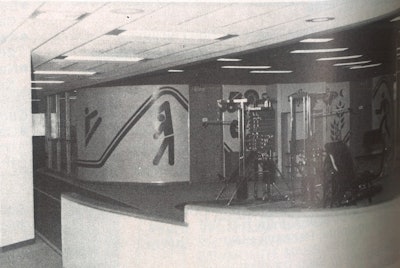 designed to serve as many as 35 percent of the Plaza's employees. A walking/jogging track encircles the exercise areas, which feature a variety of equipment. Fitness Management, Inc., a private fitness consulting firm, designed and manages the employee fitness program and the Centre.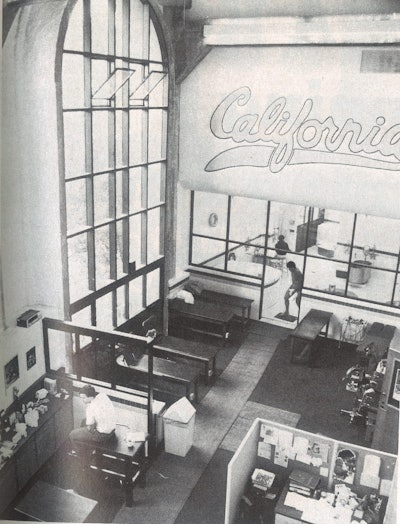 The city of Indianapolis has set out to make itself a national and international center for amateur world-class sport. One such facility helping make the dream become a reality is the Major Taylor Velodrome, part of the Lake Sullivan Sports Complex. The facility features a 333-meter, banked concrete oval with many advanced technical design considerations for competition, as well as facilities for spectators.
A massive, multi-faceted renovation of 60-year-old Memorial Stadium at the University of California, Berkeley, has as its goal the utilization of all available
space within the stadium. One phase created a completely-equipped Sports Medicine Complex, with modern facilities for treatment and rehabilitation of sports-related injuries.
The New Ulm (Minn.) Family Recreation Center is an all-purpose facility, including a pool, multi-purpose arena, racquetball courts and other areas it was funded by a creative combination of municipal bonds, revenue sharing and private contributions. Operating revenue is generated by extensive rental of the facility, such as this trade show in the arena during summer months, when the ice is taken out.