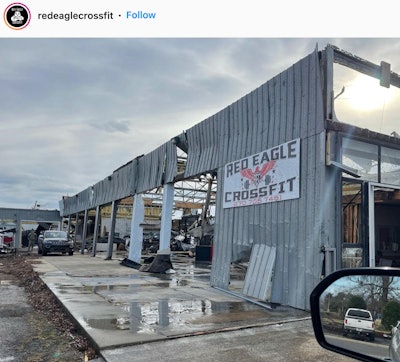 Instagram.com/redeaglecrossfit
Thankfully, no one was inside the Red Eagle CrossFit in Mayfield, Ky. when a deadly tornado ripped through Kentucky and five other states Dec. 10 and into the early morning hours of Dec. 11. No one was injured in the building, but the facility was destroyed just a few hours after the owner and members had an event inside.
"We worked out and then we ate and celebrated, and I said to my assistant coach, 'We need to have everyone out by 7,' because we knew a storm was coming," Red Eagle CrossFit's owner Leah Kluemper said, the Morningchalkup.com reported. "We definitely would not have made it had we been there when the tornado hit, because it just sucked everything right out." Kluemper, who left the gym at 7 p.m. and and drove to her mother's home about 12 miles (20 kilometers) with her husband to avoid the tornado.
At 10:45 p.m., after the storm had passed through Mayfield, Kluemper drove back to the gym. 
"I didn't want to believe it. It's just one of those things you don't understand it until you actually see it," she said. 
She said it was evident that not much could be salvaged. The rowing machines were bent and missing pieces, the rig was leaning sideways, and even the wall ball targets were bent.
"It looked like everything had been picked up, spun around and slammed around," Kluemper said. "We were able to find a few things, but we're not sure if they're safe for people to use. There were still four Assault bikes in the gym. And it's not funny, but we joked that, 'Of course, the Assault bikes made it,' " she said.
Kluemper said she intends to rebuild, and she isn't sure what that will look like, though she plans to build her own structure to coincide with her future physical therapist practice. 
"I saw it last night and didn't want to believe it. The whole town is hurting," Kluemper posted on social media Saturday. "I know the gym is just a small part but it's a big part of me and a devastating loss. So thankful no one was in the building. I don't even have the words to express how sad I am." 
Kluemper said she has received support from the larger CrossFit community since losing her business and her livelihood.
Brandy Key, the owner of CrossFit Dig Deep in ​​Paducah, Ky., reached out to Kluemper immediately and set up a GoFundMe fundraising account for Kluemper. As of Friday afternoon, the fund was about $3,000 from its $20,000 goal. 
Other Kentucky gyms have also offered support, as well, including CrossFit Murray, which offered for Kluemper's members to train there for the time being.
"And lots of other gyms that are a lot further away have been donating and asking what they can do," Kluemper saud, including the owners of CrossFit Hermitage, a Tennessee gym that was lost in a tornado in 2020.
Kluemper said she was grateful for the warm response and boost from the community. "I just want to say how much I appreciate our CrossFit community. Hearing that I'm not in this by myself makes me feel better and it's all the more reason I chose to open a CrossFit gym, so I'm appreciative of everyone thinking about us," she said.