This article appeared in the October issue of Athletic Business. Athletic Business is a free magazine for professionals in the athletic, fitness and recreation industry. Click here to subscribe.
There's an undeniable shift taking place in today's weight rooms. Interest is moving away from doing a prescribed number of reps toward more dynamic, functional movements with heavy-duty equipment. "We have kettlebells, bars, RMT Clubs, a number of different pieces of equipment," says Marty Shannon, CEO of WeckMethod, creators of functional training equipment and programs. "That's what's really trending now — paring down these large pieces of equipment and opening up space to do these more functional workouts."
Functional workouts have been popularized in part by its use among high-profile athletes. "Strongman equipment has its place because it's a little bit more fun, and the more that people want to train like athletes — and realize it's more fun to train like athletes — the more of that we see trickle over into the regular fitness world," says Scott Caulfield, head strength and conditioning coach with the National Strength and Conditioning Association, which added a chapter specifically on alternative methods and nontraditional exercises to its latest edition of the Essentials of Strength Training and Conditioning textbook.
New equipment isn't cheap, however, and its usage is fundamentally different from traditional pieces of strength training equipment. So before you swap out the seated fly machine for a set of sledge hammers, be sure to consider the key differences.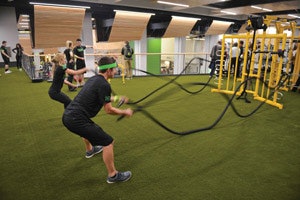 1. SPACE REQUIREMENTS
Most traditional strength equipment is confined to a set space on the weight room floor with a prescribed set of uses. Functional strength equipment, however, is meant to move, which means that while it may not take up a lot of space when not in use, it requires more floor space for actual exercises. "For a lot of the strongman stuff, you have to have space," Caulfield says. "You're picking something up and carrying it for a distance, swinging something. You don't want to be tucked away in a corner where you might drop something and have it land on someone else."
Space — both to use and also store equipment — is a major purchasing factor for Bert Windhorst, owner of BEAST (Bert's Endurance + Strength Training) in Minnetonka, Minn., which opened its current gym last October and is planning to move into a larger facility this fall.
"I see every square foot as $5," he says. "Is a piece of equipment going to sit in the corner and take up space, or can we hang it on the wall? If we run out of floor space, we can't do a lot of the things we want to do."
---
More from AB: Making Room for Functional Strength Training in Mainstream Health Clubs
---
Investing in a 14-foot rig was one space-conscious decision. "That's why we picked the rig; there are a lot of attachments and things we can do with it," he says, noting that it will be among the areas he intends to expand in his new gym. "Our numbers are going up, usage will go up, so we're thinking of adding another 16 to 20 feet."
The space below the equipment is as important as the space around it. Heavy-duty equipment like tires and slamballs are going to require some heavy-duty flooring, while power sleds typically require turf or carpeted areas. When opening BEAST, Windhorst opted for TANKs from Torque Fitness, which could be used on any type of flooring. "I've always been on the lookout for something more versatile, mobile," he says. "We can use it in the gym or take it outside. We can push, pull, do drills, drag it."
He's also looking into space-saving alternatives for some of the heavy-duty equipment currently in the gym. "We're thinking of getting the loaded tire-flip machine," he says. "We have a couple tires right now, but they're space-consumers. The half-tire you can put plates inside and flip it from one side to the other."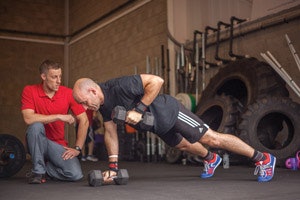 2. PROGRAMMING AND SUPERVISION
The dynamic workout possibilities of functional-strength equipment do come with a downside; equipment isn't always intuitive, leading to increased risk of injury. "Don't put anything on the floor that you think is going to put any member at risk," Shannon says. "Offer classes to teach proper use, or if you have it on the floor, put a sign up that says, 'Ask someone how to use this.' That's a very simple thing. Our RMT Club is not a very intuitive product, but we offer specific movements."
Functional training equipment is most effective when incorporated into small groups or one-on-one training sessions where a trainer can walk users through the various uses of a particular piece of equipment. "A trainer is like a lifeguard; they can't service everyone, but they're looking around and making sure no one is drowning," Shannon says. Operators therefore need to consider not just the cost of a single piece of equipment but how many pieces they will need for an effective training program, as well as the additional staffing and supervision.
"People more and more are adopting that model," Shannon adds. "They want to utilize equipment for a certain station or integration into a group-training format. People go from station to station and get a different experience. It's not servicing 15 people but only six or seven, depending on the space."
For larger clubs offering a range of activities, Caulfield suggests limiting access to certain equipment so that members of the club who don't know what they're doing can't just pick it up and start using it. "Maybe the big tires and sleds are locked up somewhere except for certain parts of the day."

---
More from AB: Functional Fitness Modular Structures Provide Variety
---
3. EDUCATING STAFF AND USERS
Before any pieces of equipment are introduced to a facility's members, the facility's staff needs to know its ins and outs. "The most important part would be that trainers know how to use them and that they've actually participated either in competition or done some sort of course or class in use," Caulfield says.
"When we get new equipment, we spend a day or two working with it, coming up with a list of things we can do with it, how to coach our clients," Windhorst says. From there, they introduce it to their one-on-one clients, which allows trainers to build their familiarity while helping members learn proper technique.
At the very least, a facility's users should be provided with a basic overview, says Shannon. "It's very easy to give a member a sheet and say, 'Take this home and read it, here are some videos.' They will read it most of the time, if your front desk person explains it."
---
PRODUCT SPOTLIGHT: Strength Equipment and Weight Rooms
---
Special introductory classes are a better way to get members familiar with new equipment, as well as teach modified movements, Caulfield says. Discouraged members will abandon new equipment and new workouts. "You may need to have a good progression to get someone to do the fun, cool stuff instead of having them do something way too hard, because then it's just not fun."
Though safety and proper education are paramount, emphasizing the fun and excitement of a new piece of equipment is also key to successful implementation. "When we get something new, we'll play with it for a little while, take some video and post it in our Facebook group," Windhorst says. "Or when a box comes, we'll ask, 'Guess what's in the box?' We'll hide the new product in the gym and throw sheets over it and get everyone excited about it."
---
This article originally appeared in the October 2016 issue of Athletic Business with the title "3 considerations before purchasing the latest strength equipment"