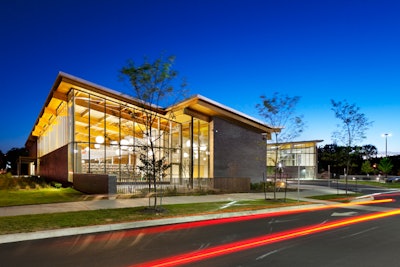 Kiwanis Aquatic Centre and Grantham Branch Library | St. Catharines, Ont.
Panelists marveled at how this park-based project stands out architecturally, with careful use of glazing, limestone, clay brick and Douglas fir timber giving the contemporary design its rightful place within natural surroundings. Judges stated that the facility appears to eliminate the sensation of swimming indoors, with one describing the natatorium as "wonderful, bright."
The aquatic center and library are housed in separate wings, joined by a triangular lobby, lending geometric visual interest to the building's approach. Roofline angles further enhance the exterior aesthetic while allowing light to fill interior spaces.
Said one judge, "It's refreshing to see a simple program transformed into a jewel of a facility — a functional ace."
View the full photo gallery>>>
---
Judges' Comments:
"The roof is dramatically sloped to allow natural light in and draws one's eye skyward, making the indoor swimming space feel right. The use of materials from the earth — concrete, brick and wood — make it feel natural like swimming in a river or a lake." — Steven Flanagan
"The simplicity of this design is what gives it strength." — Anita Moran
"Building organization, choice of materials and elegant detailing combine to turn a simple program into an architectural centerpiece of leisure, recreation and education for the city." — Tom Poulos
---
Architect of Record:
Perkins+Will | Toronto, Ont.
Associate Architect:
MZE Architects Inc. | St. Catherines, Ont.
Cost: $18.67 million (Canadian)
Square Footage: 48,000
Funded By: Government funds
Major Facility Components:
Aquatics center, library, multi-use rooms, administrative and support spaces, lobby
---

A big thank you to our seven judges: James Braam, HOK; David Edmunds, GEC Architecture; Steven Flanagan, LPA Inc.; Anita Moran, Dewberry; Tom Poulos, Williams Architects; Chris Sgarzi, Sasaki Associates Inc.; and Mark Williams, HKS | Sports & Entertainment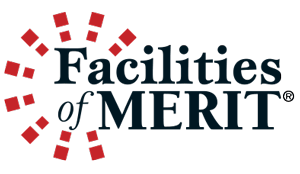 The 2015 Athletic Business® Facilities of Merit® awards were selected by a panel of sports and recreation facility architects during two days of judging in Madison, Wis. The 10 winners are being announced during these two weeks, and profiles of all 10 will appear in the November issue ofAthletic Business. The awards will be presented to the facility owners and architects at the Athletic Business Conference & Expo in New Orleans on Friday, Nov. 20.
More 2015 Facilities of Merit:
Sun Devil Fitness Complex Tempe Renovation and Expansion
Sun Devil Fitness Complex West
Branksome Hall Athletics & Wellness Centre
Goldring Centre for High Performance Sport