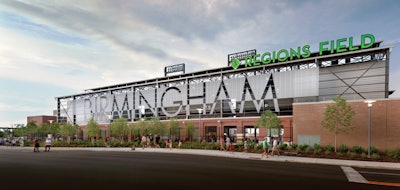 One judge spoke for all when admitting that this project "grew on" the committee, stating, "The more we looked at and understood it, the more we liked it." Particularly likeable was the manner in which the ballpark's design fits its urban industrial context. "It really belongs in its place and is one with the community," the judge noted, "yet it celebrates its own identity."
The connection between stadium and city is enhanced by the decision to concentrate the majority of seating down the first-base line, opening the opposite side of the structure to views of the Birmingham skyline. The ballpark maintains a quaintness while still meeting fan expectations with modern big-league amenities such as a 6,500-square-foot banquet room and patio, luxury suites, family areas and a youth sports zone.
Another panelist mused, "Attending a game at Regions Field must feel like a community engagement experience that goes beyond AA baseball."
Log in to view the full article