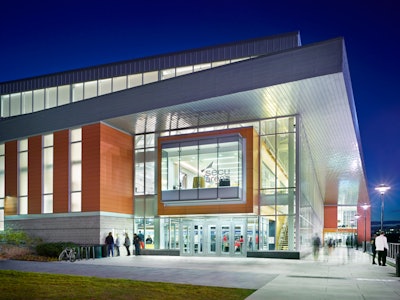 SECU Arena Renovation and Expansion | Towson University | Towson, Md.
By design, SECU Arena doesn't look like a competition basketball venue. As one approaches its terraced landscaping and human-scaled massing from the street, it would be hard to imagine that a multilevel 5,200-seat arena sits inside.
The sloped site adjacent to an existing arena (now used for practice) facilitated a partially sunken seating bowl that has fans entering at its midpoint. The intimate arena offers spectators many upscale amenities, including a VIP multipurpose room and four VIP suites, a two-story galleria that houses a university store and coat check, and corner spaces available for private rental.
"This arena is all about the spectators and the experience," noted one panelist. "I would love to watch a game or concert here."
View the full photo gallery>>>
---
Judges' Comments:
"Great entry and sense of arrival. The landscape and the building have been designed as one and do a great job of tying the old and new building together." — Steven Flanagan
"The collegiate feel and pedestrian scale in such a large facility was a pleasant surprise." — James Braam
"This is an iconic, bold and graphically powerful arena, with an architectural design approach that clearly integrates the exterior with the interior." — Tom Poulos
---
Architect of Record:
Hord Coplan Macht | Baltimore, Md.
Associate Architect:
Sasaki Associates Inc. | Watertown, Mass.
Cost: $65.5 million
Square Footage: 5,200
Funded By: Government funds
Major Facility Components:
Competition basketball arena, galleria with university store, VIP suites and multipurpose room, practice gym
---

A big thank you to our seven judges: James Braam, HOK; David Edmunds, GEC Architecture; Steven Flanagan, LPA Inc.; Anita Moran, Dewberry; Tom Poulos, Williams Architects; Chris Sgarzi, Sasaki Associates Inc.; and Mark Williams, HKS | Sports & Entertainment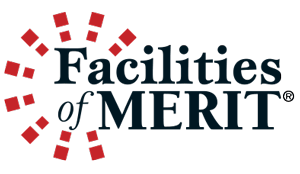 The 2015 Athletic Business® Facilities of Merit® awards were selected by a panel of sports and recreation facility architects during two days of judging in Madison, Wis. The 10 winners are being announced during these two weeks, and profiles of all 10 will appear in the November issue ofAthletic Business. The awards will be presented to the facility owners and architects at the Athletic Business Conference & Expo in New Orleans on Friday, Nov. 20.
More 2015 Facilities of Merit:
Sun Devil Fitness Complex Tempe Renovation and Expansion
Sun Devil Fitness Complex West
Branksome Hall Athletics & Wellness Centre
Goldring Centre for High Performance Sport
Kiwanis Aquatic Centre and Grantham Branch Library