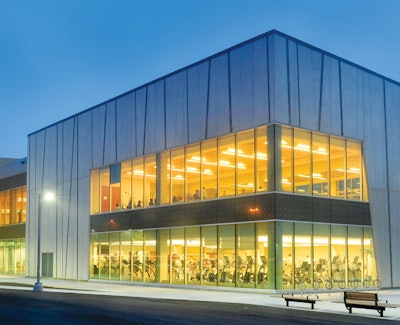 Toronto Pan Am Sports Centre | University of Toronto Scarborough | Toronto, Ont.
Designed to ultimately serve three constituencies, this sprawling sports center struck judges with its attention to scale and detail.
Housing huge volumes that include internationally sanctioned swimming and diving pools, a 38,000-square-foot field house and a high-performance training center for elite athletes, the building manages to maintain an openness and animation among its three floors. The exterior combines a variety of geometric forms and window openings that at once suggest multiple buildings and singular cohesiveness.
Said one panelist, "The play on exterior colors, forms and massing results in a sculptural architectural expression that screams recreation."
View the full photo gallery>>>
---
Judges' Comments:
"This project is a wonderfully detailed and designed creation. The quality of design thought is carried through from the wonderful massing of forms, through the exquisite interiors and down to the smallest of details." — Mark Williams
"This massive facility is thoughtfully planned and interesting on many scales. It is efficient and provides the many programs and complexities that come with housing the international games, and it will responsibly transform into an attractive community asset." — Chris Sgarzi
"The building uses strong colors to successfully define sculptural masses both on the interior and exterior." — Anita Moran
---
Architect of Record:
NORR Architects | Toronto, Ont.
Aquatic Design Consultant:
Councilman-Hunsaker | St. Louis, Mo.
Cost: $205 million (Canadian)
Square Footage: 311,000
Funded By: Government funds
Major Facility Components:
Swimming and diving pools, indoor track, fitness area, multipurpose field house, high-performance training center
---

A big thank you to our seven judges: James Braam, HOK; David Edmunds, GEC Architecture; Steven Flanagan, LPA Inc.; Anita Moran, Dewberry; Tom Poulos, Williams Architects; Chris Sgarzi, Sasaki Associates Inc.; and Mark Williams, HKS | Sports & Entertainment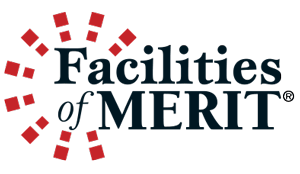 The 2015 Athletic Business® Facilities of Merit® awards were selected by a panel of sports and recreation facility architects during two days of judging in Madison, Wis. The 10 winners are being announced during these two weeks, and profiles of all 10 will appear in the November issue ofAthletic Business. The awards will be presented to the facility owners and architects at the Athletic Business Conference & Expo in New Orleans on Friday, Nov. 20.
More 2015 Facilities of Merit:
Sun Devil Fitness Complex Tempe Renovation and Expansion
Sun Devil Fitness Complex West
Branksome Hall Athletics & Wellness Centre
Goldring Centre for High Performance Sport
Kiwanis Aquatic Centre and Grantham Branch Library