Home plate umpire Chris Guccione put both hands on his head, turned and began walking. Having dropped to his knees in left field, Cleveland's Trevor Crowe started to pray, and announcers on the Indians radio network and Fox Sports Southwest, which covers the Texas Rangers, implored their audiences to do likewise. Shortstop Jason Donald had already looked away from the ball hit toward right field and out of play by the time a spectator fell 30 feet from Section 235 of the club level at Rangers Ballpark in Arlington trying to retrieve it. All Donald heard was the startled reaction of most in the crowd of 20,428 and the sound of a single body hitting the deck below. Last night's game, a 12-1 Texas win, should have been labeled a laugher. Instead, it served as a grim reminder of the dangers fans face - not just from batted balls, but from their sometimes perilous positions in the upper decks of stadiums. "It puts everything in perspective," Donald said afterward. "This is a game, and somebody potentially could have lost his life."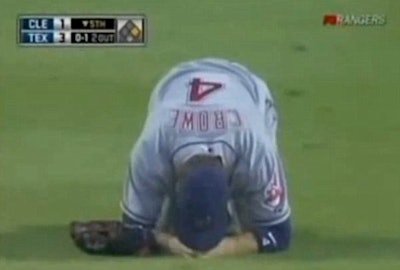 The fifth inning was delayed 16 minutes as paramedics attended to the unidentified male fan, who was responsive. He was taken to a Dallas hospital and listed in stable condition. According to reports, the ball struck a seat behind the fan, who spun to snag it on the rebound before losing his balance.
At least a dozen falls from upper decks have occurred in sports venues since 2000, including three that proved fatal, leaving one to wonder if higher railing heights at the expense of sightlines is the only way to prevent a future tragedy. Short of that, can teams do anything to discourage fans from pursuing the ultimate game day souvenir? In May, a man died from injuries sustained after reaching for a batting practice ball and falling 14 feet from the lower deck at Milwaukee's Miller Park.
Considering that nearly 50 balls will see action during a typical MLB game (not counting batting practice), such accidents remain relatively rare. But the intense jockeying among fans that often accompanies the pursuit of balls out of play can be frightening in its own right. In the seventh inning of last night's game in Arlington, an adult forced a small child into a wire fence while vying for a home run hit by the Rangers' Nelson Cruz, the same batter who had sent the fateful foul to right two innings earlier.
Seats in Section 235 last night were priced at $45 apiece. Rawlings sells official MLB balls by the dozen for $169.99. They haven't been rubbed with the special mud that removes their sheen. They bear no traces of rosin or infield clay. They played no role in creating a crack, a majestic trajectory or a game-changing moment. And all those things make getting your hands on a game ball special, I guess. I've had exactly two chances in my long history of attending MLB games to catch a ball. The episodes came decades apart, but ended in exactly the same fashion - with me getting out of the way.