Outsourcing Concessions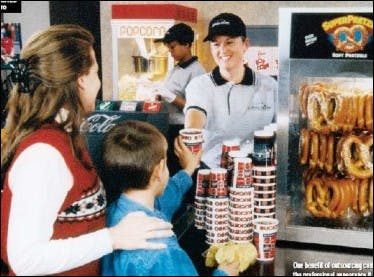 Jim Dunn has been in the concessions business for more than 30 years, but even he can't always predict what will satisfy Oklahoma Sooners basketball fans at the Lloyd Noble Center, which has been under Dunn's direction since it opened in 1975. He certainly had his doubts when three cappuccino bars popped up on the Lloyd Noble concourse. "I didn't think it would go, but it's really done pretty well," says Dunn, who served as a district manager for Ogden Entertainment, the University of Oklahoma's current concessionaire, from 1969 to 1975. "There's something about a $2 cup of coffee, I guess. It's really interesting."
Dunn takes interest in what Ogden offers consumers who frequent his facility these days, but he doesn't fret about it. Like a lot of people in his position on major college and university campuses, Dunn has recognized the many benefits - including capital resources and purchasing power, management expertise and menu flexibility - that can be gained by outsourcing concessions operations to regional or national providers. In a survey of NCAA Division I institutions conducted last summer by Mediaventures, publisher of the annual report Revenues from Sports Venues College Edition, more than half (151 of 296) of survey participants indicated concessions at either their home stadium or arena are handled by an entity other than the school.
"We got to a point where our concessions had fallen behind the times," says Jim Baker, assistant athletic director for customer services at the University of Texas at Austin, which handled its own concessions at the Longhorns' football stadium before contracting with Sodexho Marriott Services six years ago. "We needed to upgrade our concessions operation and get it to where we had more points of sale and better returns." That meant purchasing new equipment, which the athletic department wasn't prepared to do. Instead, it put out a request for proposal, including the minimum capital investment needed to upgrade stadium concessions, and Sodexho Marriott emerged from a pool of interested bidders.
Since then, massive renovations to the Longhorns' football stadium have included the addition of an east-side upper deck and the complete redesign of the west side to make room for luxury suites and club seats. Sodexho Marriott lent its expertise to the design of new concessions areas, right down to the configuration of plumbing and electricity. Though the stadium's capacity increased by only about 4,000 seats, square footage devoted to concessions quadrupled, points of sale doubled and Sodexho's gross from football food-and-beverage sales doubled from $1 million in 1994 to $2 million last season, according to Baker, whose department pocketed a percentage of those sales.
"That's one thing you get when you have a concessions service provider," Baker says. "It's not just one person you are calling on. You're calling on a company that can help you. That's their business. They're doing a better job than we could do, and we're making more money off the concessions than we ever did."
Many concessions contracts result from a scenario not unlike the one at UT-Austin. A college or university, lacking capital for infrastructure improvements to a facility, seeks bids from concessions suppliers with the resources to fill the void. Often, the RFP sent to prospective suppliers details exactly what level of financial commitment is needed. A half dozen or so interested concessionaires will then gather on campus for a pre-bid meeting and survey - an opportunity to review facilities and learn the history of the concessions operation.
Companies interested in the project then submit bids, which typically include the amount of capital the company is willing to invest up front and the percentage of ongoing concessions sales the company is willing to return to the school. The provider of the most attractive package gets the contract.
Separate contracts can be established with separate companies for individual facilities on the same campus, or for different parts of the same facility - separating concessions served to fans in standard seats from the food served to the holders of luxury suites, for example. Meanwhile, some schools choose to contract with the same provider to blanket all of their campus food-related needs, which may include concessions, catering, vending and resident dining. Other schools schedule their athletic teams' home games off campus in facilities owned by the community or a professional sports franchise, which dictates how concessions are managed and profits divvied up.
At Oklahoma, Dunn saw the Lloyd Noble Center's concessions take several different directions before Ogden landed on campus. "When we first opened up, money was tight," he says. "We had to either buy equipment for theatrics, meaning staging and spotlights, or buy equipment for concessions. We bought equipment for theatrics."
To fill the concessions void, Dunn convinced the proprietor of a local barbecue restaurant to provide the new facility with food and beverage. "We kind of set him up in the concessions business. 'You put up the money, we'll show you how to run it,' " Dunn says. That arrangement lasted eight years. Kwik Kafé (now The Swanson Corporation) took over for another eight years, before Dunn brought the operation in-house for three years. During the latter period, the athletic department was looking to outsource concessions at Oklahoma's football stadium, which is run by the athletic department, but prospective bidders showed little interest unless the contract also included concessions at Lloyd Noble, which is run by OU's administrative affairs department. The result was that Ogden scored a concessions contract package that includes football, men's and women's basketball, men's and women's gymnastics, wrestling and any concerts staged at the Lloyd Noble Center.
According to Bill Rayner, vice president in charge of Ogden's central region, it's not uncommon for a concessionaire to tweak a contract proposal, or walk away from it entirely. "There have been times when we decided not to bid because of the way the spec was written," he says. "But then again, if we felt that we wanted to be involved, we might submit an alternative or we might submit a bid and ask the university to look at it a different way. There have been times when we've looked at a university and decided, for one reason or another, that maybe it was asking for too much capital and we didn't think that the project warranted that amount, and we just pulled out."
Of course, the university must be sure of what it wants, too. The contract between UT-Austin and Sodexho Marriott allows the concessionaire to depreciate the equipment it installed in the football stadium over a 10-year schedule, with the intent of turning the equipment into university property when the contract expires. According to Baker, any amount remaining on the depreciation schedule at the conclusion of the term will be paid by the university or assumed by the next successful concessions bidder (unless the new contract is again awarded to Sodexho Marriott). Owning the equipment makes bringing concessions in-house a more viable option for UT-Austin, if it chooses to take that route again, Baker says.
Athletic departments that outsource concessions also enjoy peace of mind from a management standpoint. When Dunn handled Oklahoma's concessions in-house, he was at the mercy of his hired help - managers who could quit at any moment and without notice. Since Ogden took over, two managers have been promoted within the corporation, leaving Dunn with his third fresh face in eight years. He's not complaining. "It's been a situation in which, as soon as one manager left, they had another body to fall right into that slot," Dunn says. "Because it's a corporation, there are procedures and policies that have already been established. That's helpful."
Dunn has the expertise to fill in himself, if needed, but he'd rather not. "At any given moment, I could run the concessions again, but there are a lot of advantages to being able to go home at a decent hour and not worry about the money getting to the bank."
Baker estimates that Texas football Saturdays put as many as 2,500 individuals to work, and at least half of them are working concessions (see "Counter Productive," page 94). With Sodexho Marriott on site, the UT athletic department must concern itself only with the other 1,000 or so individuals on its payroll - ticket-takers, ushers, security officers, cleaning staff and athletic department personnel.
On a larger scale, Sodexho Marriott provides its 40 college and university clients with market research gleaned from focus groups and exit surveys. "We have resources across the country, and we're able to get data by talking with fans," says Scott Baumgartner, vice president of concessions and arena management at Sodexho Marriott, whose general managers from each campus gather twice annually to compare notes. "We get together for training and to share ideas on what is new and what is working at a given campus. A good example of that is a pilot program of selling 44-ounce beverages down at Texas, and that's doing very well at the warmer-weather schools."
Athletic department officials at UT-Austin and other schools that outsource concessions may also take comfort in knowing they will collect a guaranteed amount of concessions revenue each season. Factors such as inclement weather and poor performance on the field can translate into sagging concessions sales, and the concessions business wasn't always booming at Texas. However, Baker credits Sodexho Marriott with honoring its vow to increase points of sale and drive per-capita spending, all the while guaranteeing UT-Austin a minimum return. Now, it appears the corner has been turned. "This past year was the best ever here," Baker says. "We had six home games, six sellouts. I think our coldest game was 80 degrees, and we had three games at 95 degrees. Beverage sales just shot up. Obviously, you have to have the food and drink and not run out of product. That's a huge thing, trying to take care of the needs of 80,000 people."
Quantity alone isn't enough to take care of today's fans, whose increasingly finicky tastes dictate variety in concessions. By contracting with independent concessionaires, who often subcontract with the providers of regionally and nationally recognized branded food items, colleges and universities tap into buying power that facilitates expansion of menu offerings and experimentation with new products and sizing.
Before it contracted its concessions, UT-Austin didn't even offer its fans pretzels. Now, Longhorn fans feed on local favorites such as Mr. Gatti's Pizza and Pokey Joe's Barbecue, as well as Quizno's Classic Subs and fajitas from Taco Bell. "More often than not, what we see being very successful is a regional brand," says Baumgartner. "At Ohio State, it's Donato's Pizza. It's not like a Pizza Hut that you see everywhere, but it's extremely popular there."
Baker still believes sales of core concessions items such as hot dogs, sausages, popcorn, nachos, candy and soft drinks constitute 70 percent of the take, but offering fans variety through branded items makes the remaining 30 percent equally important. "We may not get a ton of dollars from those items, but it does give our fans other choices," Baker says. "And you can put those brandname booths where you don't have permanent concessions stands."
The University of Virginia has enhanced the quality of its concessions offerings with temporary charcoal grill stands located just inside the turnstiles at its football stadium. In that location, fans can't help but be enveloped by the aroma of chicken breasts, sausages and hamburgers sizzling over hot coals, according to Ed Gutauskas, Aramark's resident district manager who doubles as the university's director of dining services. "It's a great area," he says. "In fact, the university is in the middle of a major renovation of the stadium. They're adding 20,000 seats, and we're building two grill stands into the stadium. Those will be permanent stands and permanent grilling locations with char grills rather than charcoal. So we'll have two locations in the stadium where you can get a grilled burger, a chicken sandwich or a sausage-and-pepper sub."
The university consulted Aramark in the design of the new grill stands, which will be equipped with overhead exhaust hoods like those found in restaurant kitchens, says Gutauskas.
Other premium food items at Virginia athletic venues include freshly squeezed lemonade, Domino's Pizza and Boardwalk Fries.
Providing fans with branded food items typically involves subcontracts between the concessionaire and the brand provider. For example, Pizza Hut has two stands at Oklahoma's Lloyd Noble Center. Ogden Entertainment collects a percentage of Pizza Hut's sales, and that percentage is then split to include OU.
"I'd make more money if Ogden just sold hot dogs and popcorn, because I'm not splitting the split, so to speak," Dunn says. "But the fact is, by establishing a food-court atmosphere, it's really patron-friendly. It's giving people variety. We have 18 home basketball games for men, another 18 home basketball games for women. We've kind of got the same crowd coming once or twice a week to our building. Hot dogs are OK the first time around, but after awhile fans do want some variety. Plus, people appreciate the fact that now they can drive straight from work or straight from home to the building to get that variety."
Perhaps the most unusual branding arrangement at a college athletic facility is found on the University of Louisville campus, where the football facility, Papa John's Cardinal Stadium, is named after a national pizza chain. By purchasing stadium naming rights, Papa John's also secured exclusive pizza-selling rights to the entire Louisville campus, according to George Lancie, VP for convention centers east at Volume Services, which handles all non-pizza-related concessions in the stadium. "There are 25 or 26 stands, and Papa John's has four of them," Lancie says. "They actually are a subcontractor of ours. It's kind of an interesting thing. We're the primary, they're the sub, even though their name is on the building."
No matter how concessions contracts are structured, the only way they succeed is if they are perceived to be mutually beneficial for all parties involved.
"It needs to be a three-way partnership," says Sodexho Marriott's Baumgartner. "We need to talk with patrons, with the clients, and then we're obviously working for our shareholders. The three of us work together. The clients can tell us what they're hearing from the patrons. We also talk to the patrons, and then we work with the client and evaluate the menu. It's an ongoing process."
"We're very pleased," says Baker of UT-Austin's concessions arrangement. "The risk is theirs and not ours now, because we have it in professionals' hands. We're really just giving our concessions operation to somebody who specializes in it."