Long before athletes go for the Gold, manufacturers are making deals to supply countless materials and supplies to the 2008 Games.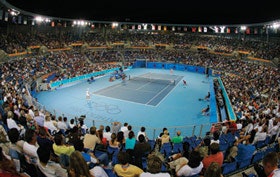 Chicago has just one-in-seven odds of hosting the 2016 Summer Olympics. But judging by the buzz, you'd think it was a lock. Twenty-seven sites for new and existing sports facilities - arenas, aquatics centers, a boxing pavilion and a velodrome among them - are already identified on a downtown Chicago map; proceeds from the sale of apparel bearing a shining star logo are supporting the cause; and the words of a revered architect and champion of the 1893 World's Columbian Exposition are being promoted as a rallying cry for the entire city. "Make no little plans; they have no magic to stir men's blood," Daniel Burnham famously said. "Make big plans; aim high in hope and work."
Manufacturers are hearing the buzz too, and for some of them, even slim odds are well worth the price of postage. "I've sent Chicago 2016 a letter already - just because they are a candidate," says Nicolas Bauer, North American marketing manager for Taraflex Sports Flooring by Gerflor. The company has provided flooring for the Summer Olympics since 1976, and is supplying flooring for 14 indoor volleyball courts and multiple table tennis courts for this year's Games in Beijing. Despite this ongoing relationship with the Olympics, Bauer says the fierce competition among potential Olympics suppliers doesn't allow the company to rest on its laurels when seeking new contracts for future Games. "It's definitely not automatic," he says. "Just because we are in Beijing doesn't mean we are going to be in London in 2012."
While most of the world was focused on the athletic events unfolding during the Summer Games in Athens four years ago, certain parties at the time were just as trained on the business angles of 2008. "We started talking to the Beijing Olympics committee in Athens," says Federico Stroppiana, who oversees Mondo's North American operations. (The international surface manufacturer has also regularly supplied materials to the Summer Games since 1976, including the main surfaces for track, basketball and handball this year.) "Many people would like to have the opportunity to supply to the Olympic Games, so there is a lot of negotiation that needs to go back and forth."
For many suppliers, the Olympics represents a rare economic catalyst. Bauer says his small North American branch relocated to Atlanta for the 1996 Summer Games. "Our company blew up in North America after Atlanta, and we've been growing ever since," he says. "The Olympics can have that kind of impact on a company. We're hoping it can be the same thing in China. If you can get China, you can get Japan, and India and other parts of Asia."
Anton Kajlich was so ecstatic that his Australian company's (AntiWave) lane ropes, starting blocks and bulkheads were selected for this year's Games that he proclaimed to Australia's Daily Telegraph, "Sydney was great for us, but this Beijing contract is worth twice as much." He went on to describe the contract as "perhaps the biggest win in my lifetime and probably my son's lifetime."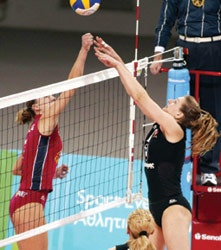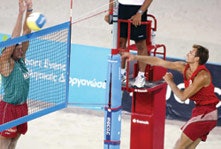 Each Olympiad represents a new and potentially exciting market for manufacturers of sports-related equipment.
The exact economic reverberations of a company's association with an Olympic Games are difficult to measure, but a Samsung executive told
Advertising Age
in March that the technology company's phone sales rose 80 percent in the Italian market following its investment of more than $1 million to become a "Worldwide Sponsor" of the 2006 Winter Games in Torino.
But for the hundreds of manufacturers that actually supply the Games every two years with essentials such as, say, gym chalk, sports flooring or protective padding, that kind of immediate reward by association may be unrealistic. In fact, local Olympic organizing committees as well as the International Olympic Committee demand that most actual suppliers not refer to themselves as suppliers, partners or any other term that suggests a relationship to the Games or any of its trademarked properties (the rings, for example).
Take this warning posted on the web site of the Vancouver 2010 Winter Games organizing committee (VANOC): "Interested bidders are advised that successful contractors, consultants and service providers will not have any right to advertise, promote or publicly discuss their relationship with VANOC or the 2010 Olympic and Paralympic Winter Games." The reason, VANOC explains, is that "rights of that nature are reserved exclusively for VANOC's official sponsors and suppliers."
And those "official" sponsors and suppliers, which make up a fairly short list, pay very large sums to play. In March, for example, VANOC announced that the developers of the Vancouver Olympic/Paralympic Village, the Millenium Development Corporation, agreed to pay more than $3 million to become an "official supplier" to the Games.
The IOC and the local organizing committees each maintain tiered lists of companies that have freedom to promote their association with the Olympics - to what degree varies based on their financial contributions to the "Olympic Movement." These companies (McDonald's, Coca-Cola and Visa are currently among them) for the most part have little to do with supplying equipment or services to make the games possible, and have paid the IOC dearly to be able to have a presence at actual Olympic venues, and to include the intellectual property of the IOC in their marketing materials. "It's a lot of money - millions and millions of dollars," says Bauer. "For something like table tennis flooring, I don't think it would make much sense for us to put that kind of money in."
There are less superficial agreements that involve both marketing and actual supply that companies can strike with organizing committees. Italy-based fitness equipment manufacturer Technogym, for example, reached an "Exclusive Official Supplier" agreement with the Beijing Organizing Committee for the Olympic Games (BOCOG). Under the deal, the company will supply 10 training facilities within the Olympic Village with about 1,000 pieces of cardio and strength training equipment. Technogym products also will be used in fitness centers for Olympics staff and journalists, and a separate agreement with the Chinese Olympic Committee means that Technogym will furnish equipment specifically for China's national teams.
However, the vast majority of such "official" suppliers have no real connection to athletics competition (Zhengzhou Snyear Food Co., the exclusive supplier of frozen dumplings to this year's Games, exemplifies the diversity among this support category). And for smaller manufacturers of specialized athletic materials, equipment and supplies, a paid relationship with marketing benefits may not be feasible, as Bauer notes.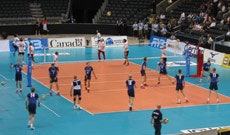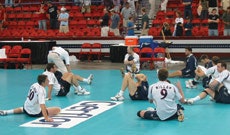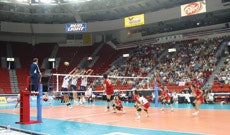 Earning the trust of an international federation of a given sport and its athletes is a common way for manufacturers to obtain Olympics contracts.
Even so, scores of companies still seek contracts to provide the actual supplies to be used in the Games - which for some companies is exposure enough. "Because the summer Olympics are only held every four years, participating in the Games creates a marketing message that is very strong both in the United States and internationally," says Traci Simpson, marketing manager for California Products Corporation, the makers of the DecoTurf surface to be used for 17 competition and practice tennis courts during this summer's Games. Simpson adds that aside from being an "honor," supplying to the Games can be "a nice addition to DecoTurf's revenues for the year."
And even though companies may be limited in the promotion of their supply relationship to the Games, there are some clear business perks. "You are able to share with your customers that your volleyball net system is on the biggest stage in the world," says Brad Underwood, president of Sports Imports, the North American distributor of Senoh volleyball, tennis and badminton net systems. (Senoh is continuing its streak of supplying indoor and beach volleyball net systems for the Games in Beijing and in London in 2012.) "I could be here talking with you about your high school or your college, and you know that the net system you are about to put in is high-quality, or it wouldn't be used in the Olympic Games."
A working relationship with an individual sport's international federation may be the easiest way for a sports equipment manufacturer to draw the attention of Olympics purchasers. Taraflex Sports Flooring by Gerflor obtained its Beijing deal in part through its existing contacts with the International Table Tennis Federation and volleyball's international governing body, FIVB. "You have to make your case to the volleyball association," Bauer says. "If they have a bad experience with your product, they could say, 'I don't care if we have a relationship with them; we don't want them. It's a bad floor.' "
Laurie Gouthro, director of competition for the International Softball Federation, explains the common process from her organization's viewpoint. "Several years prior to the Olympic Games, we are asked to submit who our sole suppliers are, and then the Olympic committee involved takes over the negotiations," she says. "Sometimes, it doesn't work out. It's too costly for the manufacturer, and the Olympic committee will have to find somebody who can meet the standards of the agreement - which usually is, 'You have to supply "x" product, free of charge, and you have to ship it here.' "
Gouthro's marketing scenario points out the inherent advantage that Olympics-governing organizations have in the negotiating game. "They have huge bargaining power just because they are the Olympics," says Stroppiana. "More often than not, it's a matter of them telling you they want something for free in exchange for some recognition. We do try to avoid that when we can." Adds Gouthro, "Some manufacturers may be very small, and it's not cost-effective for them to be a sole supplier. Their money may not be recouped by people seeing that they supplied the 'official base' of the Olympic Games."
But not all suppliers hoping to get in on the Olympics are at the mercy of the Games' organizers. Those that manufacture certain equipment that has proven to perform well in past Olympics and other large-scale national or international competitions do have some leverage. "The potential to have records broken is very important to the organizing committees, so they want something very fast," Stroppiana says of the main running track in Beijing. "I think for BOCOG to have chosen a Chinese supplier for something as important as this would have been a big risk to take."
In fact, says Ron Holton, the acting director of procurement for VANOC, with thousands of purchasing decisions to be made, and with the high stakes inherent to Olympics competition, risk is a bad word. "We're not looking for something experimental," he says of athletics-related purchases. "We want to have a high level of confidence that the company supplying us has technology that will work."
That said, each Olympics purchasing decision involving materials and equipment used in competition and training comes with its own defined set of criteria. For example, one of VANOC's overarching initiatives in organizing the 2010 Games is sustainability - including environmental, cultural and economic. So in a given purchasing decision, factors for VANOC may include the involvement of native peoples, a company's reputation for environmental stewardship or respect for human rights, or a product's ability to be reused for a purpose not related to the Olympics once the Games are over. The 2010 Olympic Village, for example, will become a mixed-use development that will feature more than 1,000 residential housing units, a quarter of which will be subsidized.
"We are looking to provide legacy opportunities for local businesses, particularly businesses that are located in inner-city and disadvantaged neighborhoods," Holton says. "That is a factor we consider in making the purchasing decision, but it's only one factor of many. There's no general preference given to local suppliers, because we are committed to getting competitive bids - and that means we have to cast the net fairly widely."
There is no standard cast for that net. It can vary greatly depending on geographic and local economic factors, and even the culture - politically and/or socially - of the organizing committee. In Beijing, many of the companies providing materials and supplies to be used in this year's events are based in China.
"It was more difficult for us this year because there are a lot of suppliers that are local," Mondo's Stroppiana says of the Beijing Games. "In Athens, that wasn't the case. There was nobody in Greece that was manufacturing anything similar to our products." Even finding out when and where to find requests for proposals can vary by organizing committee. In China, for example, the procurement process has not been defined nearly as well as it has been in Vancouver or London, both of which have extensive web portals designed to disseminate a range of information to potential suppliers. Any interested parties can view clearly outlined RFPs detailing the general expectations of the supply contract, and even create online profiles and communicate with the purchasing powers that be. Such methods of procurement can be as public or private as an individual organizing committee dictates, says Holton, adding, "We've chosen to be as transparent as possible."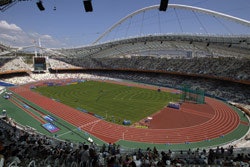 Olympics organizing committees often award contracts to companies whose equipment has proven to allow for record-breaking athletic performances.
The truly international nature of the Olympics can also be problematic for suppliers, who must deal with language and cultural differences in their efforts to obtain potentially lucrative contracts. A natural advantage goes to companies that already have a presence in that market. "In a place like China, you have difficulty because you run into people who do not speak your language and who have a very different culture," says Stroppiana. "We built a factory in Beijing that came on line last year, and I think the fact that we had invested there helped."
Says Bauer, "With Italians, you may get a slap on the back and drink some wine, but with Japanese people, you would have to be more aware of personal space. It's the same way with organizing committees. There are expectations and ethics related to that business culture."
Despite these hurdles, hundreds of companies still devote plenty of resources in order to have their products featured in the Games. "Our sport division represents only 10 percent of our company in terms of revenue, but the fact that we are there makes all our employees proud," says Bauer. "Even if they're not in the sport division, they can say, 'We are going to be in the Olympics.' "