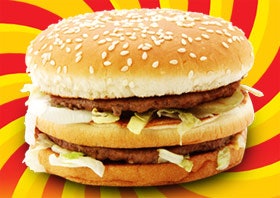 Fans who pull for the hometown Reds at Great American Ballpark can order a pulled pork sandwich from Montgomery Inn, a three-restaurant chain serving greater Cincinnati. Those enjoying the inaugural season of Nationals Park in Washington, D.C., can sample fare from Ben's Chili Bowl, a U Street institution for the past 50 years. End zone concourses at Gillette Stadium in Foxboro, Mass., allow Patriots fans to patronize the ultimate in universal food-service familiarity: McDonald's.
Brand-name concessions at sporting events have a history - "Take Me Out to the Ballgame," which turns 100 this summer, mentions Cracker Jack®, after all - but never have stadium and arena food offerings seen greater diversity than today. As a result, concessions contracts have assumed greater complexity, and flexibility, as the purveyors of local and national food brands seek to carve their own slice out of the profitability pie. "There's a lot of nuance in these agreements," says consultant John DePaola, principal-in-charge of Foodservice Resources in Fredericksburg, Va., "and every one is different."
DePaola, who helped develop RFP specifications for the concessions contracts to be in place at the Minnesota Twins' new ballpark beginning in 2010, compares the overarching model in place at many sports venues to that of a mall food court. A national concessionaire - such as Centerplate, Aramark, Sportservice or Levy Restaurants - holds the lease for the concessions space within the entire stadium or arena, then sublets to third-party providers for a cut of their take. These often include companies with which the concessionaire may already partner on a national level, but to an increasing extent they take the form of regionally recognizable restaurants. When general concessionaires respond to a team's RFP, it's "their turn to put their best foot forward," DePaola says. "And so Levy will say, 'We partner with Wolfgang Puck.' But they'll also go out into the local marketplace in advance of submitting their proposal to do some research and find what's popular."
At Detroit's Comerica Park, fans can still choose between a signature Coney Dog smothered in chili and cheese from Leo's Coney Island and a kielbasa with peppers and onions served by the Kowalski Sausage Co., but don't expect to find much pizza variety.
"We did the Comerica Park project, which is owned by Mike Illich of Little Caesars pizza," says Mark Appell, executive vice president of Chicago-based design and construction management firm International Facilities Group. "He owns his own concessions company, too. In that case, it's his ballpark, he's doing what he wants, and Little Caesars is everywhere."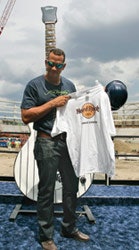 Concessions agreements can be sliced and diced in any number of ways. "You could have a deal for general concessions, a deal for vending, a deal for suites, a deal for clubs, a deal for restaurants - I mean, it can really be stratified, and that's all part of the negotiation," DePaola says. "Twenty years ago, it would have been a flat number. But as ticket prices get stratified, the concessionaires respond to that by stratifying their offerings and in turn the concessions deals themselves get stratified."
The financial stakes are considerable. "Those numbers are typically not disclosed, but it's not unusual for the team to get 40 to 45 percent of the gross," says Jim Grinstead, publisher of the annual reference guide Revenues From Sports Venues. "That's a big chunk of money, and that's also one of the reasons you see concessions prices as high as they are."
Others have seen 50-50 revenue splits. "What does that tell you? For every $18 crab cake sandwich you sell, $9 goes into the pocket of ownership for doing nothing except giving you a place to sell your crab cake sandwich," DePaola says. "The concessionaire has to make everything off his nine bucks. He's got to pay for his labor, he's got to pay for his food, he's got to do his marketing. The sad thing is that the fans don't know that. The fans get ticked off at the guy selling the sandwich. But it's what it costs to do business today."
Even with the potential stratification of agreements, no more than two general concessionaires typically hold contracts with the same sports franchise. A catering company with an established reputation among local high-society party circles might successfully bid for the clubs and suites contracts, while a national concessionaire is entrusted with serving all other seating areas. "In some cases, the premium seating may have gone to somebody else, or if a new stadium's design includes space for a specialized restaurant like a TGI Friday's, that might be excluded from the concessions contract," Grinstead says. "But as a general rule of thumb, if it has to do with food and beverage, the general concessionaire rules the roost."
In the end, though, it's the sports franchise - often armed with the results of fan surveys - calling the shots. "The team controls all brands," says concessions consultant Chris Bigelow, president of The Bigelow Companies in Kansas City, Mo. "It's no different than saying, 'We're going to be a Coke building and not a Pepsi building.' The concessionaire is going to use whatever it is told to use."
Most industry experts agree that hot dogs, peanuts and other ballpark staples still account for two-thirds or more of a facility's total concessions revenues. But a concessionaire's in-house brand of hot dog is no longer enough to please today's consumer - at least not on its own. "Companies develop proprietary brands for specific contracts, so whatever they call their pizza in Miami is not the same as they call it in Los Angeles. It's still the same pizza," Bigelow says. "In the early days, they were really trying to come up with a name and create a look that had to do with the area, and it was not met with a lot of success. Now, a lot of these companies have national contracts with Pizza Hut, Starbucks, Quiznos - you name a brand - so when they go into an operation, they can bring those brands with them."
Success isn't guaranteed for local brands, either. When Denver's Invesco Field opened in 2002, "virtually every specialty food company in the area wanted to have some involvement," says Allen Fears, who negotiated that concessions contract for the Denver Broncos before becoming chief financial officer of National Sports Services, a venue development and operations consultancy with offices in Denver and Topeka, Kan. "Some vendors learned a hard lesson that the kind of returns that they could get from a concessions stand at a football game 10 times a year didn't mirror what they got in their individual locations."
"For some it works out great, and for some it's a total disaster because they aren't big enough to handle the amount of business that you have to do and the fact that it's off site," Bigelow says. "It's usually best, even if they are local, if they have at least two or three stores, with the infrastructure and management team to oversee multi-unit operations. If they only have one store, and now all of a sudden they have to supervise this ballpark location 81 times a year, they're asking for trouble."
Food branding tied to sponsorship, once a common concessions agreement modality, too often meant disaster for local business owners bent on making "millions" by mere virtue of their new stadium location, according to Bigelow. Many saw little return on what amounted to an advertising investment. "But then teams started to say, 'You know, the fans did seem to like the brands, so let's try to work it out,' " he says. "The connection between brand and sponsorship is diminishing, but a lot of teams came to the realization, 'Let's do a brand for the sake of customer satisfaction, more so than selling an ad in right field.' "
Concessionaires often make concessions of another kind when striking agreements with local brand providers, if only to help seal the larger deal. "If the local operator is really important to the ownership, has a lot of cachet in the marketplace and puts butts in the seats, concessionaires will have a special commission rate for those operators to entice them to come in," DePaola says. "The master concessionaire is still making money on the deal, but it's just that it may be willing to make a little bit less so that there's enough in the pot to allow the local guy to wet his beak at the same time."
When a national brand rides a general concessionaire's coattails into a contract agreement with a sports franchise, it is often the result of a preexisting arrangement - usually involving the concessionaire guaranteeing the brand a certain number of venue placements nationwide.
"The one thing with involving a brand is you do have additional cost. Obviously, you now have three people in the mix - the concessionaire, the team and this franchise brand - all wanting to make money, so everybody has to take a little less," Bigelow says. "The idea is that you're selling more, so you may have a smaller piece of the pie, but the pie got bigger, so everybody's making money."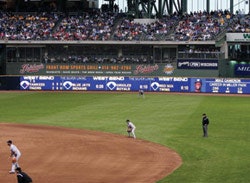 While a contract may stipulate that a certain percentage of concessions stands be occupied by local purveyors, a contract involving a sports franchise in a city where tax dollars funded facility construction may require that a certain percentage of concessions labor includes local residents or civic groups, or that supplies be purchased through local businesses. Other contract language may touch on health code adherence, employee conflict resolution, alcohol management, recycling practices and carry-in policies.
But contracts can be as flexible as they are complex. If it turns out a brand can't make ends meet in the stadium setting, a new one can usually take its place without a lot of extra paper shuffling.
Facility infrastructure, too, should be able to accommodate most turnover, according to food-service design expert Harry Schildkraut, a partner at S3 Consultants in Chicago. "If we design a pizza stand, and we don't know if it's going to be used by a brand or the concessionaire, there's not a lot that needs to change," says Schildkraut, who typically gets involved with the design of a venue at least two years before construction begins. "You're still going to have warmers and you're still going to have conveyor ovens."
As part of his job, DePaola tries to envision proper concessions infrastructure well in advance of a facility opening, but changes invariably arise. "A concessionaire might come in and say, 'Hey, I want to make this a grill stand instead of a pizza stand.' We just try to roll with the punches and make it work out," he says.
In the case of McDonald's setting up shop within Gillette Stadium, where the Patriots otherwise handle concessions in-house (only three NFL franchises do so), Schildkraut says that "before the stadium construction was completed, they took three concessions stands - two on the main concourse, one on the upper concourse - and did a direct deal with the local McDonald's guy. McDonald's came in and fitted out the stands with their equipment and their design; we just kind of gave them an empty box."
Equipment procurement is a critical component of any concessions contract, with overall investment exceeding $20 million in some cases, according to DePaola. The percentage of gross concessions revenue ultimately shared with a team may hinge upon early purchasing decisions. "A large component that drives that number up or down is how much equipment the concessionaire includes in the deal," says Fears. "You might get a lower split, but they bring in every piece of hardware that you need to outfit the entire facility. Or you might negotiate a higher split, and they don't bring anything to the table, and part of your construction cost is all your equipment."
Ultimately, the Broncos and Centerplate met somewhere in the middle, though Fears says that strategy may not represent a facility owner's best interests. "If you can afford to get all the equipment in your facility and not have the concessionaire contribute that, in the long run you're probably going to be better off economically," he says. "It's just like if you're buying a new home, and you can afford to go out and buy your appliances, as opposed to financing them as part of a 30-year mortgage."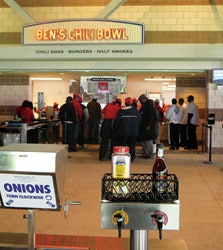 It may be too soon to tell what, if any, impact the recent economic downturn will have on the way concessions contracts are structured, but a Reuters/Zogby poll conducted in mid-June indicated that concessions sales may be in the midst of a cooling-off period. Almost 15 percent of those polled said they're attending fewer sporting events this year, and about 28 percent are spending less on food and souvenirs. Yet, Major League Baseball insists that both attendance and revenues are on track to set records this season.
In March, USA Today reported that at least 13 of the 30 MLB franchises are offering all-you-can-eat seating sections for all or part of the 2008 season, a trend that Fears says should continue to prove satisfying for all parties involved - even concessionaires.
"The basic stadium hot dog does not represent the largest component of the overall cost of that concessions item. It's all the infrastructure and labor that supports it," he says. "So if you're doing an all-you-can-eat-type situation, the cost of somebody eating three hot dogs at a game as opposed to one is not huge from a material standpoint, since all the other costs that go into getting that product from a meat processing plant and into a fan's hands are the same."
Though stadium and arena concourses are littered with failed branding attempts, more often than not familiarity and variety make for an appetizing concessions combo. "Local brands are becoming more popular than national brands in most cases, because they give the stadium or arena some local identity," says Bigelow. "They make it different than every other stadium, and the customer likes that, provided you pick good local brands. At the Phillies' ballpark in Philadelphia, they have two local cheesesteak restaurants competing against each other in one area. Everybody decides which one he or she wants to go to, and it's very popular."
When it comes to hitting target revenue marks, "it's the basics that do it," Grinstead says. "But the fancier foods, the local flavors, are what make a ballpark or a stadium feel like home."