As gutsy coaching calls go, this one ranked right up there with any in the career of Baylor University's Art Briles. What set this one apart, though, was that it was made away from the football sideline.
Briles' decision to give Baylor's athletic communications staff the green light to pursue an all-out Heisman Trophy campaign for a then under-the-radar quarterback named Robert Griffin III would change the school forever and rewrite a marketing playbook for other schools with Heisman hopefuls.
Heath Nielsen, Baylor's associate athletic director of communications had been hoping for the okay. Coming off a 7-6 season in 2010, a season that saw BU reach its first bowl game since 1994, Nielsen knew Rob — as he affectionately calls Griffin III — had the makings of someone who could transform the athletic department and the perception of the entire university with a strong season in 2011.
"People fell in love with Rob and his personality," Nielsen says. "We wanted people to get to know him with his helmet off, so that was a big thing with our promotion — showing his personality, how he interacted with his teammates, how he did well in school. That was a big part of it."
But back in the summer of 2011, as Baylor launched its campaign, Robert Griffin III was just a happy-go-lucky kid who was only scratching the surface of national stardom.
"None of us were experts and we didn't try to act like we knew everything there was to know about running a huge publicity campaign," says Nielsen about his staff's approach. "We were kind of daring and naive and just going for it."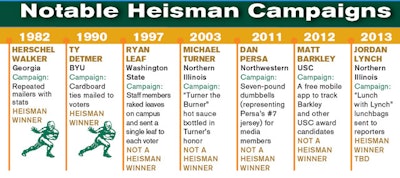 ONLINE LEVERAGE
Heisman campaigns have evolved over the years. In the past, schools typically relied on flashy and usually expensive promotions. Take Oregon's 2001 campaign for quarterback Joey Harrington: The Ducks spent $250,000 to plaster a massive image of Harrington, quickly nicknamed Joey Heisman, in New York's Times Square. Despite the significant investment, Harrington did not end up winning the award, losing to Nebraska's Eric Crouch.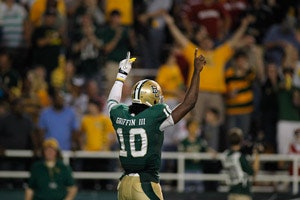 That kind of campaign is now considered old school. Between the commonality of nationally televised games and the rise of social media, athletic departments don't need to send life-size posters to Heisman voters (as Clemson did with William Perry in 1984) or spend six figures on a Manhattan billboard. Instead, athletic departments are turning to the web, where Nielsen says, "The price is right."
"Our fans wanted billboards and blimps, we had a website," Jason Cook, a senior associate AD for Texas A&M told Sports Business Now. A&M's Johnny Manziel won the award in 2012 and — as of this writing — was in the running to win it again in 2013.
"I don't think you need to market a Heisman anymore," Harrington himself was quoted as saying in a recent Wall Street Journal article titled "R.I.P., Heisman Campaigns."
But as the mastermind behind a campaign that drew national acclaim — ESPN's Michael Wilbon called the marketing of RG3 "very, very smart," — Nielsen disagrees. A mix of old-school (Baylor sent a series of six trading cards, pictured above, to Heisman voters periodically throughout the year) and new-school marketing (Baylor had a specific website, Facebook page and Twitter account dedicated to RG3) seemed to strike the right chord with fans, and more important, voters.
"Nowadays, a majority of any promotion will be digital," Nielsen says. "By the time your fans or the media receive your message and share it and retweet it and put it out there, the exponential increase of how many eyeballs are seeing your content is just fantastic. That wouldn't have happened back in the day when you were just putting something in the mail."
While Nielsen is a big proponent of his staff's digital efforts, he acknowledges that old-school items sent in the mail still have an impact.
"We could put stuff on Facebook and Twitter and make videos and a cool website, but it was the old-school items, the trading cards we sent in the mail that really resonated with the voters," Nielsen says. But even those items had a social effect.
"The physical items sent via snail mail were also shared digitally," Nielsen says. "So even the old-school items became social pieces."

NOTHING TO LOSE
Griffin III won the 2011 Heisman Trophy with nearly twice the number of first-place votes that runner-up Andrew Luck of Stanford received.
Nielsen says the multipronged promotion was absolutely necessary to draw attention to Baylor, which at the time was not in the national spotlight like it is today.
"If your school is under the radar, absolutely do as much as possible," Nielsen says. "What do you have to lose? Let people know that your kid is a stud and give him every opportunity to be noticed."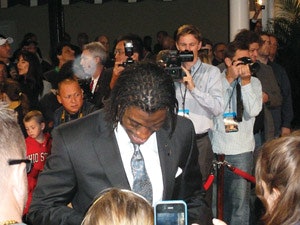 Baylor's "Join The Third" campaign is a great example. Fans were encouraged to add "III" to their name on Facebook to show their support for Griffin III. Nielsen and his staff were unsure if the idea would catch on, but in the end thousands of Baylor fans followed through, creating viral exposure for RG3.
"We were willing to try lots of tactics," Nielsen says. "If they didn't work, we dropped them and kept churning along with the things that were working."
Did Baylor's campaign win the award for RG3? Obviously his play on the field had much to do with it: Griffin III led the Bears to 10 wins in 2011, including an Alamo Bowl victory, accounting for 47 touchdowns along the way. But Nielsen wonders if that same player — a complete dark horse for the award in the preseason — would have won the Heisman if not for Baylor's marketing push.
"Take away everything we did, how would it have gone down?" he asks. "I will say, he wasn't really on people's radars prior to the season. In the end, it was nice just to be a part of all that and absolutely fantastic for the school."

Editor's Note: Michael Gaio was a member of Baylor's athletic communications staff in 2011.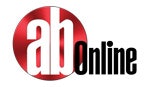 One on One with Baylor's Heath Nielsen: Read his full interview.