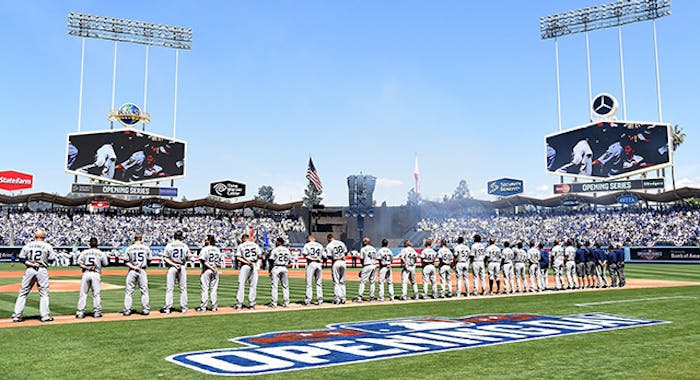 The Los Angeles Dodgers have launched a program to integrate innovative technologies into the stadium and fan experience. The Dodgers Accelerator program, announced earlier this week, will provide 10 startup companies an opportunity to grow and build awareness for their products. 
"The sports industry is ripe with opportunities for innovation," Tucker Kain, Dodgers chief financial officer, said in a press release. "There are countless ways for new technology to create more powerful consumer experiences, heighten fan engagement, and improve efficiencies.  We're thrilled at the opportunity to work with some of the best sports-centric startups from the LA area and across the globe."
RELATED: Tech Upgrades Boost Sports Concessions Operations
The Dodgers are partnering with R/GA, a New York-based advertising agency, on the program. Applications are being accepted until June 29, and the 10 startups' products and services will be showcased between August 17 and early November. Each business will receive $20,000 in funding, access to resources and support provided by the Dodgers and R/GA, branding services from R/GA, and support and distribution services from the Dodgers.
One example would be to utilize a fitness-tracking technology to give fans access to players' health data to encourage involvement. The team is looking for services and technologies in the areas of: fan engagement, fan relationship management, e-Sports, smart arenas, big data and analytics, fitness and youth sports, sports training and sponsor integration. 
Technology does not have to be baseball-specific, says Kain, but improve — or potentially revolutionize — the sports entertainment experience in some way. The initiative is part of a growing effort to modernize professional baseball.